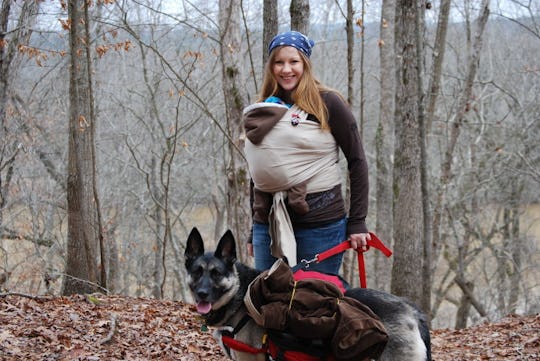 Courtesy of Elizabeth Broadbent
This Miracle Nursing Bra Saved Me Postpartum
When I had my first son, I knew I wanted to breastfeed. So before I gave birth, I stocked up on a few nursing bras. They were soft and comfy, but they provided no support whatsoever. Even trying them on in the dressing room, I wondered how the hell these thing were going to contain the thunder. Is this why breastfeeding boobs sag? I wondered. But I put it out of my mind. I mean, what else was I supposed to do? After all, breast was best; and I was more than willing to sacrifice my boobs on the altar of baby nutrition. Right? Wasn't that what being a mom was about?
When my son was born, I found myself wearing the nursing bras at night, and rocking nursing camis during the day. I wore them underneath an open flannel shirt or cardigan. This presented several problems. My enormous breasts, which had gone from an E cup to an H cup, dragged them down, even when I tightened the straps as far as they could go. I was the undisputed queen of cleavage.
When I had to breastfeed, dropping a cup down meant exposing an entire breast. And there were always those moments just before and after nursing when my boob was completely hangin' ten: just before baby latched, and just after he popped off. I tried to use my cardigan to cover up, but it didn't work. I was basically flashing the world every time my kid wanted to nurse.
There had to be a better way, I thought one day after fumbling half-naked in a church pew on a Sunday morning. So we hit on the solution to every American mother's problems: Target. I browsed. I searched. I examined and discarded bra after bra after bra. And finally, I found a Gilligan & O'Malley nursing bra for $18.99. It looked like a standard sports bra with adjustable straps and nursing clips. The cups dropped down separately, and when I tried it on, the band offered the girls more support than anything I'd worn so far.
Little did I know that I had just found the One Nursing Bra to Rule Them All, which, coupled with the black postpartum top that saved my wardrobe, would let me nurse whenever, wherever, in total comfort.
I bought four of them.
Then I went home and assembled my outfit. First, I picked out a normal shirt. (Of course, it barely fit me, because my boobs were so big, but it fit well enough.) I found one of my magic nursing tanks, which was also black. Then, underneath it all, I put on the miracle bra. When baby Blaise began to squall, I sat down on the couch. I carefully pulled up the T-shirt. I pulled down the miracle tank. And then I unhooked one of my bra cups. I was able to use the T-shirt to shield my boob until the last minute, after he had latched on, thus avoiding flashing my nipple. My shirt stayed up and my stretchy tank stayed down. This was so much better. I was ready.
Gilligan & O'Malley Nursing Lounge Bra, $9-19, Target
So I took the show on the road. I nursed in public over and over. Every time, the bra/tank/shirt combo worked perfectly. The miracle bras were also comfortable enough to sleep in, with enough support to keep me from feeling like my boobs were flopping around like pancakes. I frequently wore one to bed.
The one drawback was that the bra didn't make my boobs look as big as they were, but they also didn't make them look saggy. They looked good enough that I wore those bras, and a few others I bought, for an incredible nine months postpartum. After that, I discovered the maternity and nursing lingerie brand Hot Milk, with its pretty patterns and lace, and I never looked back.
Still, I wore my magic bras to sleep every night, along with a stretchy tank. I continued sleeping in them through 22 months of solo nursing Blaise, a year of tandem nursing Blaise and my second son August, 10 months of nursing August alone, and then 2 ½ years of tandem nursing August and my youngest son Sunny. I still wear the miracle bra on and off to sleep, and Sunny only nurses once a day, just before bed. The bra is that good.
The best part is that all these years later, those bras, which have been through innumerable washings and wearings, haven't broken, snapped, or gotten ratty. They look brand-new. In this sense, they truly are miraculous.