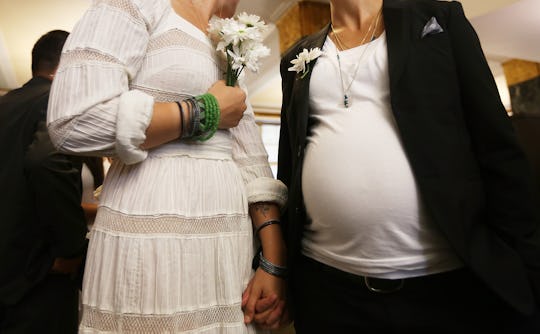 Mario Tama/Getty Images News/Getty Images
Why Some Experts Want To Test Vaccines On Pregnant Women
As the weather warms up across the country, pregnant women are turning their minds to several challenges. The heat can get tricky when you're carrying a human inside you (to say the least), but the high temperatures outside might actually be the least of your problems. Because with the heat come the mosquitoes... and with the mosquitoes comes the threat of the Zika virus. After a brief winter respite, concern over the virus is returning with a vengeance. Scientists continue to work to get ahead of the virus, and some are hoping to test vaccines on pregnant women for some surprising reasons.
The Zika virus is spread by the Aedes aegypti mosquito, which is most often found in hot weather, frequently close to standing water. It can also be sexually transmitted through male semen. The symptoms of the Zika virus (headache, flu-like nausea, conjunctivitis, aches and pains, exhaustion) could very well go unnoticed if contracted by a healthy adult. Unfortunately, the virus can be passed from a pregnant woman to her fetus, and can potentially cause a whole host of birth defects including, according to the Centers for Disease Control and Prevention:
Microcephaly, a condition where the brain does not develop properly, resulting in a decreased head size and a whole host of neurological issues.
Congenital Zika Syndrome, or severe microcephaly, where the skull is partially collapsed, damage to the eye, brain damage, joints with limited range of motion, clubfoot, too much muscle tone.
Because of the specific threat to pregnant women and their unborn children, a group of scientists, bioesthicists, OB/GYNs, and researchers are hoping to include them in a Phase Three trial for the Zika vaccine in the future. The ethics team has been granted $1.55 million from the Wellcome Trust to come up with a realistic, ethical approach to including pregnant women in scientific trials, in the case of public emergencies. Traditionally speaking, pregnant women are not included in vaccine trials because they are considered a "vulnerable" population, and difficult to assess due to their ever-changing condition. But in the case of the Zika virus, researchers are hoping to make an exception.
Professor Anne Lyerly of the UNC Center for Bioethics explained to the UNC health care site:
People tend to think first about the ethical problems of including pregnant women in research. In this case, the gravest ethical problem would be if we failed to include them, since it is pregnant women – and their babies – who will face the most serious consequences of infection.
Three moral imperatives have been established for pregnant women to be included in vaccine trials:
To develop a Zika virus vaccine that can be responsibly and effectively used during pregnancy.
To collect data that are specific to safety and the ability of a vaccine to effect an immune response in pregnant women for all Zika virus vaccines to which pregnant women may be exposed.
To ensure pregnant women have fair access to participate in vaccine trials that offer a reasonably favorable ratio of research-related risks to potential benefits.
The ethics group explained to The Atlantic that not including pregnant women, particularly in Brazil and Puerto Rico where the virus has reached epidemic proportions, would be denying them a potential protection against Zika. Pregnant women, it argued, "should have fair access to participating in ZIKV vaccine trials that carry the prospect of direct benefit."
There are several Zika vaccine trials in the works at the moment at the National Institute of Health, but none of them have moved beyond Phase Two. Pregnant women could really not be included until Phase Three, according to the ethics team.
As researchers move closer to a potential Zika vaccine, the inclusion of arguably the most affected group in the population feels imperative.