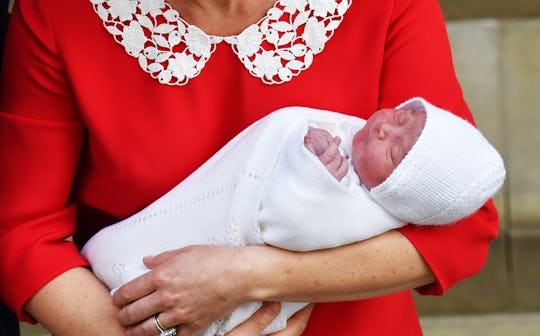 WPA Pool/Getty Images Entertainment/Getty Images
These Are The Top Name Theories For Royal Baby No. 3
After months of anticipation, the newest royal baby is finally here! Kate Middleton gave birth to a son at 11:01 a.m. local time Monday morning, at the Lindo Wing of St. Mary's Hospital in London. Just a couple of hours later, the newly-crowned mom-of-three stepped outside the hospital alongside Prince William while holding their new baby, introducing him to the world for the first time. However, one detail is still a mystery — the baby's name. Luckily, there are plenty of theories about the new royal baby's name, and bookies likely have a better idea of the name now that they know the newest royal is a boy.
Royal baby name theories have been floating around for months now. Middleton and Prince William did not disclose that they were having a boy until announcing his birth Monday morning, so bookies had been taking bets on both traditionally girl names and traditionally boy names. Popular bookie websites William Hill, Betway, and Sun Bets had predicted that if the baby was a girl, the most likely names were Alice, Mary, Elizabeth, and Victoria, as reported by The Sun. All of those names belonged to past queens or princesses, making them all pretty safe bets.
But now that the baby is a boy, it seems like a good time to investigate the traditional boy names that bookies have their bets on. Here are the current top contenders according to Sun Bets, and as reported by The Sun.
1. Arthur
Sun Bets is currently reporting 7-4 odds on the name Arthur, according to The Sun. It's pretty interesting that this name is so high up on the list, considering King Arthur is a medieval, mythological figure, according to Biography.com, as opposed to a real King from whom Prince William descended. If Middleton and Prince William go for this moniker, it's safe to assume fans will be baking celebratory cakes using King Arthur flour. Additionally, Arthur is one of Prince William's middle names.
2. James
James has inched up the list and into second place, with 5-1 odds according to Sun Bets and as reported by The Sun. There have been multiple monarchs named James, namely King James I of England, who left a strong legacy behind. King James I reigned over England when the 1611 English translation of the bible was released, thus the King James Bible, according to Time. James would certainly be a fitting name for the new prince, considering the impact King James I had.
3. Albert
Sun Bets currently gives the name Albert 11-2 odds, as noted by The Sun. And if Middleton and Prince William choose it for their youngest son, he will have a strong connection with his older brother. Queen Elizabeth's father, George VI, ruled as king of the United Kingdom from 1937 to 1952, as noted by Biography.com. However, George VI's given first name was not George — it was Albert. Naming their baby Albert would kind of be like killing one bird with two stones, if you know what I mean.
4. Philip
Calling their baby Philip would be a pretty sensible choice, considering Prince William's grandfather, aka Queen Elizabeth's husband, is named Philip. Sun Bets has the name Philip at 6/1 odds, according to The Sun. Not to mention, another one of Prince William's middle names is Philip.
5. Thomas
Thomas certainly has a royal sound to it — but there don't seem to be any former British monarchs named Thomas. That being said, Sun Bets thinks Thomas has 12-1 odds, as per The Sun.
6. Edward
And finally, Sun Bets also has the name Edward at 12-1 odds, as explained by The Sun. A royal baby Edward would certainly make sense, as there have been multiple King Edwards who reigned in the United Kingdom. Namely, Edward VIII, who reigned over England from January through December of 1936. Edward VIII abdicated the throne after barely a year to be with his lover, as explained by Biography.com, leaving the throne to his niece, Queen Elizabeth II, who still reigns today.
Whatever name Middleton and Prince William go with, it's clear that the royal baby already has plenty of fans.
Check out Romper's new video series, Bearing The Motherload, where disagreeing parents from different sides of an issue sit down with a mediator and talk about how to support (and not judge) each other's parenting perspectives. New episodes air Mondays on Facebook.