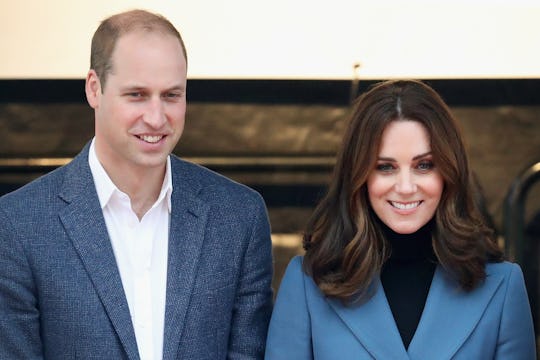 Chris Jackson/Getty Images Entertainment/Getty Images
These 7 Theories About Royal Baby No. 3's Name *Could* Be Onto Something
With Kate Middleton's due date pretty much already here (she's simply due "in April"), fans of the royal family are bursting with excitement over royal baby number three's imminent arrival. Namely (see what I did there?), many are wondering what Kate Middleton and Prince William will name their third child. And, the internet being the internet, there are plenty of theories about what Prince George and Prince Charlotte's new little sibling will be named.
In case you've never attempted to track royal baby name predictions before, the practice is a lot more serious than one might think. Many have placed bets with bookies on the name they predict Middleton and Prince William will choose, in a process a lot like betting on racehorses. (Seriously. You can bet on the baby name on websites that people usually use to bet on racehorses and other sports.)
Multiple bookie websites have released lists of both boy and girl names with the highest odds — and unsurprisingly, most of the names are pretty traditional. As reported by The Sun, bookie websites William Hill, Betway, and Sunbets all agree on the most likely girls and boys names for the royal baby. Middleton and Prince William have yet to disclose the baby's sex.
Here are the seven names with the highest rankings as of Wednesday, April 11.
1. Alice
Whispers of the name Alice have been circulating a lot this week. Elle and Express both reported that Alice is currently bookies' favorite option. According to stats shared by The Sun on Wednesday, William Hill has Alice at 6/1 odds, Betway has the name at 8/1 odds, and Sunbets has it at 9/2 odds. Those figures put the name in either first or second place with the three bookie companies. Plus, there was a Princess Alice in the royal family once before (she reigned in the mid-1800s).
2. Mary
According to The Sun, William Hill has Mary at 16/1 odds, Betway has the name at 7/2 odds, and Sunbets has it at 3/1 odds. That also puts the name in either first or second place with the three bookies, making it a narrow race between Mary and Alice. The name would make sense, considering Queen Elizabeth II's grandmother (and the upcoming royal baby's great-great-great grandmother, if my calculations are correct) was Mary of Teck, who reigned as queen consort of the United Kingdom in the early 1900s.
3. Elizabeth
The name Elizabeth is a no-brainer, considering the baby's great grandmother and current Queen of the United Kingdom is Elizabeth II. I guess if Middleton and Prince William choose the name for their baby, she'll technically be Elizabeth III. William Hill, Betway, and Sunbets have Elizabeth at 12/1, 14/1, and 11/1 odds, respectively, as The Sun reported.
4. Victoria
Just like the three other top-contending girl names, Victoria is ranking high with William Hill, Betway, and Sunbets, coming in with 8/1, 9/1, and 12/1 odds, as reported by The Sun. And also like the aforementioned names, should the royal baby be called Victoria, she won't be the first in her family. Queen Victoria ruled the United Kingdom from 1837 to 1901.
5. Arthur
OK, now onto the boy names. William Hill, Betway, and Sunbets all have Arthur pretty high up on the list, with 14/1, 11/1, and 12/1 odds, respectively, according to The Sun. If you've ever bought King Arthur flour, you probably know what I'm going to say next: there was once a King Arthur. However, he was actually a medieval, mythological figure, as per Biography, so the name is a little more random than all the other options listed here.
6. Albert
If you've heard of Prince George (you probably have if you cared enough to read this far), you'll love the following fun fact. The queen's father, George VI, who ruled as king of the United Kingdom from 1937 to 1952, was not actually named George — his real first name was Albert. So if Prince William and Middleton go with the name Albert, their son will have a very strong link to his older brother! William Hill, Betway, and Sunbets have Albert at 14/1, 10/1, and 16/1 odds, according to The Sun.
7. James
And finally, the name James is also a top contender should the baby be a boy. William Hill, Betway, and Sunbets have James at 16/1, 10/1, and 12/1 odds, as noted by The Sun. Ever heard of the King James Bible, aka the English version of the bible? It's named that because it was translated to English during the reign of King James I of England in 1611, as reported by Time. Considering King James' legacy has lasted more than 450 years so far, it would make sense for the royal couple to name their baby after him.
Luckily, the royal baby is expected any day now, so fans will know the name soon enough.
Check out Romper's new video series, Bearing The Motherload, where disagreeing parents from different sides of an issue sit down with a mediator and talk about how to support (and not judge) each other's parenting perspectives. New episodes air Mondays on Facebook.