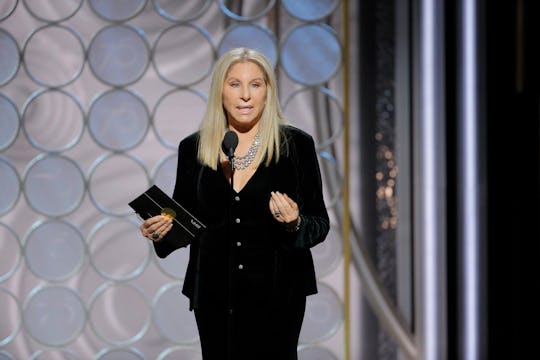 Handout/Getty Images Entertainment/Getty Images
Barbra Streisand's Golden Globes Speech Sheds Light On A Startling Statistic
To say that the 2018 Golden Globe Awards was a breath of fresh air would be an understatement. Not only did it introduce the Time's Up movement, which seeks to end sexual harassment and gender inequality, but it also offered up a vast array of speeches that were both heartfelt and eye-opening. But if I had to narrow down one, I'd say it was Barbra Streisand's Golden Globes speech that had the biggest impact on me, simply because it shed light on a startling statistic.
Just before presenting the winner, Three Billboards Outside Ebbing, Missouri, with the award for Best Motion Picture Drama, Streisand took the time to use her platform for the greater good (like so many amazing women did all throughout the night) and recalled how long it's been since a woman won a Golden Globe for directing. (Here's a hint, it's been a very, very long time — like 34 years.) Actually what really brought this topic to the forefront of the evening was the overhead voice who announced Streisand onto the stage declaring this fact as if it was something to be proud of. And you better believe that Babs wasn't about to let that go.
"So backstage I heard they said I was the only woman, did I hear right? Yes, the only women to get the Best Director Award, and you know, that was 1984: That was 34 years ago. Folks, time's up!" she said, obviously meaning to reference the Time's Up movement itself. "We need more women directors and more women to be nominated for Best Director. There are so many films out there that are so good directed by women."
She went on to say:
Anyway, I'm very proud to stand in a room with people who speak out against gender inequality, sexual harassment, and the pettiness that has poisoned our politics. And I'm proud that our industry, faced with uncomfortable truths, has vowed to change the way we do business. Truth is powerful, and in a really good film we recognize the truth about ourselves, about others and it's so powerful that it can even change people's minds, touch people's hearts, and ultimately even change society itself. This evening we've seen highlights from five really good films, nominated for Best Motion Picture Drama. And once again, here are the nominees.
I won't go into the full list since at this point you know very well how it all turned out (congrats to Three Billboards Outside Ebbing, Missouri on a well-deserved victory). But that wasn't the most important part of her message by any means. Streisand's remarks were eye-opening. Can you believe it's been 34 years since a woman received a Best Director Award? On one hand, I can't say I'm floored by the news, but at the same time yikes. It's just so baffling. And as much as I'd like to say that things are changing for the better, this year's Golden Globes proved we still have a long way to go.
Lady Bird, which was directed by Greta Gerwig, may have taken home the Globe for Best Picture in a Musical or Comedy, however, when it came to the director category it was completely snubbed, much to everyone's surprise. In fact, as Natalie Portman so astutely pointed out, the Best Director category was made up of only men.
But hey, the theme of Sunday night's award show was all about calling people out on issues that deserve and need to be addressed, so this topic was a great addition. Perhaps if more voices like Streisand and Portman continue to speak out, this will eventually be a problem the world will never have to face again.
Check out Romper's new video series, Romper's Doula Diaries:
Watch full episodes of Romper's Doula Diaries on Facebook Watch.