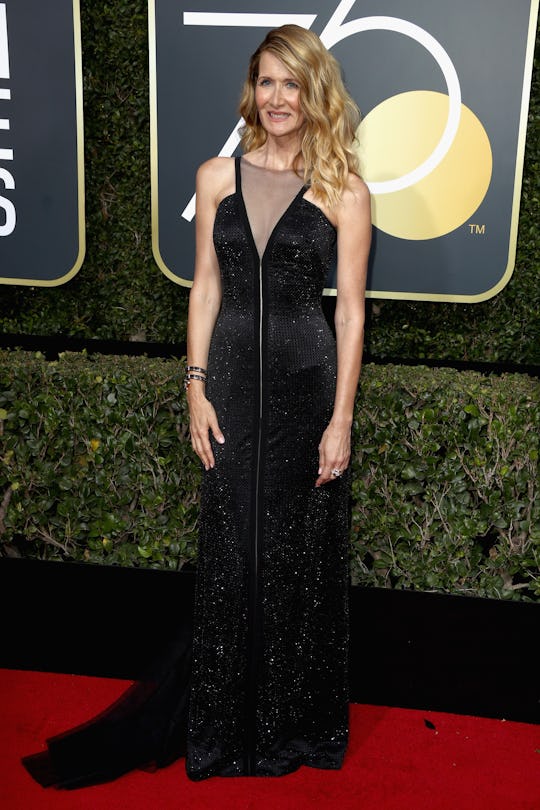 Frederick M. Brown/Getty Images Entertainment/Getty Images
Laura Dern's Golden Globes Acceptance Speech Was A Vital Call Out For Parents
Running against her costar Shailene Woodley, Laura Dern won the Golden Globe Sunday night for best supporting actress as predicted, honoring her portrayal of Renata Klein on Big Little Lies. The role was brilliantly double-edged: Dern's character is an underdog who made a strong argument for solidarity among mothers in the concluding episode of the mini-series. The transcript of Dern's Golden Globes speech echoes that sentiment, acting as a call to action for parents everywhere.
"May we teach our kids that speaking out without fear of retribution is our culture's new North Star," she told the crowd in her acceptance speech. Previously in the awards show, Dern's co-star Nicole Kidman used her Golden Globes acceptance speech to make a powerful statement for those who speak out against abuse. Speaking about her character Celeste, who endures domestic violence in part because she wants to protect her sons, Kidman said:
This character that I played represents something that is the center of our conversation right now: abuse. I do believe and I hope we can elicit change with the stories we tell and the way we tell them. Let's keep the conversation alive, let's do it.
The cast of Big Little Lies have often spoken of their production team and cast as being a "family," and Dern picked up the torch from her co-star to make a perhaps more overt call to action for parents. The full transcript is below.
The character of Renata Klein is used in the series as a catalyst. Renata is the annoying, overprotective mother who accuses newcomer Ziggy (the son of Shailene Woodley's Jane) of hurting her daughter Amabella, setting in motion a clique-war. Ziggy is innocent, and Witherspoon's Madeline leaps to the defense of the mysterious Jane. Witherspoon, Kidman, and Woodley form a sort of protectorate of mothers, banding together to offer support against a common enemy: difficult women like Renata and the devastatingly young, hot, and lithe new wife of Madeline's ex. By the end of the series, however, all the key women on the show are united against a very different enemy.
The enduring theme of the show is the power of women in their collective form. Alone, they are vulnerable — they are the past and current victims of abuse — but as mothers they found a fresh fount of strength, determined to protect their own children.
Dern referenced the role her character played in outlining a possible way forward overtly in her speech:
Thank you HFPA for the honor of joining in the company of these extraordinary fellow nominees who inspire me so deeply.
And namely to the brilliant Shailene Zoe, Reese and Nicole, my new family.to our fearless leader Jean-Marc, to HBO, and to our magical producers and especially for caring so much to make things work so that I could be a part of this. I'm so forever grateful.
To David E Kelley, our superhero, who took Liane's words and gave me particularly the most outrageous complicated woman, and a terrified mother. Terrified because her little girl was being abused and bullied and she was too afraid to speak up. Many of us were taught not to tattle. It was a culture of silencing and that was normalized.
I urge all of us to not only support survivors and bystanders who are brave enough to tell their truth, but to promote restorative justice. May we also please protect and employ them. May we teach our children that speaking out without fear of retribution is our culture's new North Star.
Bless you, bless everyone who worked on this, all the people saw it, and my beautiful children, thank you for your work and love.
It was a rousing speech, especially for parents, who were asked in plain terms to teach their children to speak up, and to create a culture where victims will be heard.
Big Little Lies was produced ahead of the firestorm of #MeToo, and its rousing popularity, and demands for a second season, were proof that a circle of mothers rendered with complexity, and dealing with a stacked deck, even in the privileged confines of Monterey, California, resonated across the country. Mothers know their power, and Dern gave them another reason tonight to use it.
Check out Romper's new video series, Romper's Doula Diaries:
Watch full episodes of Romper's Doula Diaries on Facebook Watch.