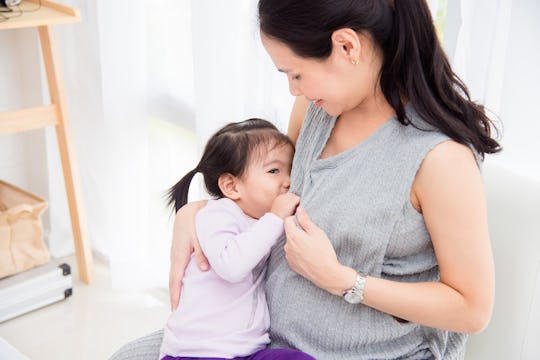 Fotolia
The U.S. Tried To Derail A Breastfeeding Resolution Allegedly In Favor Of Big Corporations
Decades of research has shown that, although fed is best, breastfeeding provides newborns with optimal nutrition. Breast milk contains key nutrients not only important to boosting a child's growth and development, but also to strengthening their immunity. That's why health experts work to encourage breastfeeding wherever and whenever possible, while also being cognizant of those parents who can't or don't want to nurse. Yet, in a move that shocked advocates and global health officials, the Trump administration tried to tank a breastfeeding resolution allegedly in favor of big corporations, according to a new New York Times report.
The resolution, put forth by the World Health Organization, aimed to affirm the benefits of breastfeeding, as well as give countries guidance on how to reel in false or misleading baby formula marketing, according to The New York Times. Health experts expected the measure to be approved quickly and without controversy, but the United States delegation stepped in to derail talks, even going as far as to intimidate nations with trade retaliation, The New York Times reported.
Ecuador had led the drafting of the resolution, but withdrew from sponsoring the measure after U.S. officials reportedly threatened to impose trade limits and withdraw military aid, according to Malnutrition Deeply, which broke the story last month. And why was the Trump administration trying to thwart the resolution? Because of the language around advertising breast milk substitutes, Malnutrition Deeply reported.
Ultimately, though, the United States failed in its attempt to tank the resolution, Malnutrition Deeply reported. Russia ended up introducing the measure. But what was presented was a watered-down version of the resolution that made little mention of monitoring or enforcing WHO's rules against how breast milk substitutes are promoted and advertised, Malnutrition Deeply reported.
Patti Rundall, policy director of the global advocacy group, International Baby Food Action Network, told Malnutrition Deeply:
We are upset that the democratic processes that should kick in at the [World Health Agency], and have kept the WHA true to its constitutional mandate, were absent. All the member states needed to have a say. The U.S. didn't need to have to a bigger say.
Under WHO's International Code of Marketing of Breast Milk Substitutes, advertising or promoting breast milk substitutes to the general public is not allowed, nor is handing out free samples to new parents, whether directly or indirectly. Yet, the baby formula industry is guilty of doing both, according to The Huffington Post.
A 2015 Food and Nutrition Bulletin report found that companies shell out about $4 billion to $6 billion a year to market their formula to mothers and the general public.
The New York Times article also comes two months after Access to Nutrition Foundation's 2018 index report revealed that major breast milk substitute manufacturers comply with international code. The report found that six of the world's baby food companies are not adhering to WHO's International Code of Marketing of Breast Milk Substitutes, a global health policy framework adopted in 1981 that advises against aggressive baby formula marketing.
The 2018 Access to Nutrition Index (ATNI) report discovered that, in Thailand and Nigeria alone, 3,000 incidences of non-compliant marketing among the six businesses were recorded. Most of those violations related to point-of-sale ads found on websites for online retailers, according to the report's findings.
Romper reached out the U.S. Department of Health and Human Services, which leads the country's WHO delegation, for comment, but did not hear back in time for publication. President Donald Trump, however, did take to Twitter to deride The New York Times report as a "fake news" story, adding that:
The U.S. strongly supports breast feeding but we don't believe women should be denied access to formula. Many women need this option because of malnutrition and poverty.
Studies that children benefit greatly from breast milk, which is packed with nutrients that are not yet found in formula. The WHO resolution was meant to be a symbolic gesture that affirms this knowledge, backed by decades of science.
Still, the United States, for some reason, show this as a threat to corporations — corporations that, as the ATNI report showed, ignore WHO's code anyway. And by trying to derail the resolution, the Trump administration revealed, once again, that children's health comes second to cash.