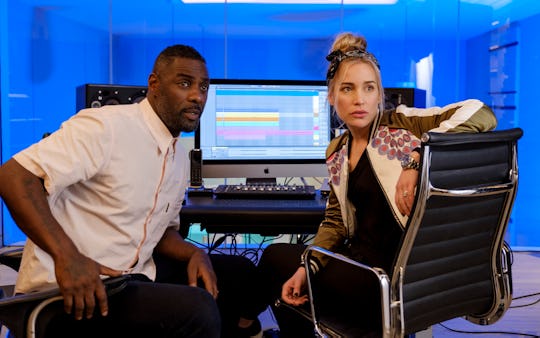 Nick Wall/Netflix
'Turn Up Charlie's Cast Is A Mixture Of Big Names & Promising Young Talent
You might think the best thing about Turn Up Charlie is Idris Elba, who also co-created it, but the truth is, young Frankie Hervey whose first role ever is the Netflix series, might steal the show. They definitely seem to play well off each other in the trailer for the British comedy set to premiere on the streaming platform on March 15. But the Turn Up Charlie cast features other familiar faces and newcomers ready to shine in the comedy.
Elba plays a down and out DJ whose last chance at making it in the music business again is becoming the nanny to his successful friend's 11-year-old daughter, played by Hervey. It's enough to take any egomaniac down a few pegs but, as he explains in the trailer, it's really all he has. Plus his friend's wife, a word renowned DJ herself, could help him make a comeback.
Turn Up Charlie looks like a newer version of Uptown Girls meets School of Rock meets Mary Poppins. Only in this case, the little girl is just a tad less spoiled and the nanny is Charlie, who from the looks of it has zero experience with kids. There will no doubt be tons of chaos and uncomfortable moments as he learns to juggle his new job, keep another human being alive, and work on his DJ career.
Netflix put together a cast that is a mix of British stars and American faces you may have seen elsewhere before. Together, they make up the music-infused comedy.