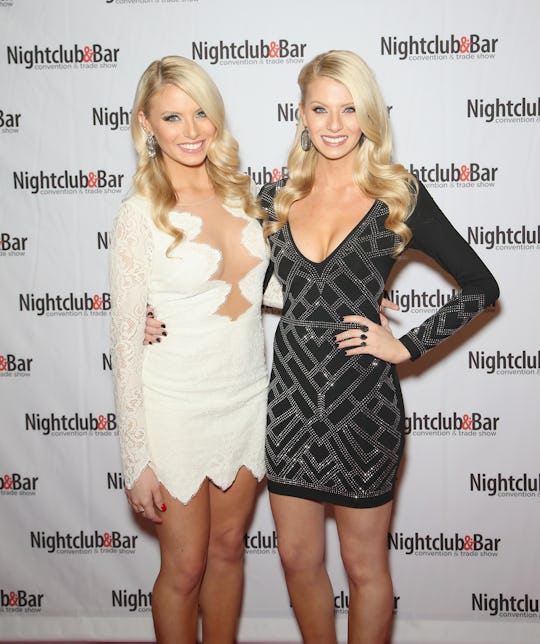 Gabe Ginsberg/Getty Images Entertainment/Getty Images
The Twins Immediately Stir Up Trouble On 'Bachelor In Paradise'
At this stage of the game, newcomers to Bachelor in Paradise are really only showing up to test the wobbly legs of some few-weeks-long relationships to see if they can stand up to a little bit of pressure. Enter: Emily and Haley Ferguson, the identical, platinum blonde twins from Ben Higgins' season of The Bachelor who were, naturally, born and raised in Las Vegas. They were early arrivals last season, but the twins returned to Bachelor in Paradise and immediately started stirring up trouble.
Even though they've been on something of a ~personal growth tour~ with their Freeform spinoff series The Twins: Happily Ever After, Emily and Haley freely admitted during their first moment in Paradise: "We're here to just f*ck sh*t up." They claimed to have learned an important lesson from last season, which is that the correct way to do Paradise is "not to care." So the pair had no qualms going after taken men. And not just any taken men, but literally the most taken guy and the most drama-embroiled guy on the beach. Haley had her sights set on Derek, who is basically already engaged to Taylor, and Emily sunk her claws into Dean who had just barely escaped a love triangle in one piece the night before. (His Bachelor Nation reputation, however, did not emerge unscathed. He's tarnished for life.)
Dean turned down Emily not once but twice, and she still threw a fit about it. On a season that has already struggled with issues of consent, the optics of saying things like "you don't have a choice" and "you're going on this date whether you like it or not" when trying to woo somebody are perhaps not the best. Plus, after both Emily and Haley realized that they wouldn't be able to go out with their first picks, Emily sniped that Derek and Dean "decided to go out with shallow, ugly whores," which was completely unnecessary, totally uncalled for, and approximately 100 notches too intense for the likes of Bachelor in Paradise.
Eventually, Haley asked Jack Stone on a date and Emily asked out Tickle Monster, but they weren't exactly excited about it, at one point, referring to their dates as "douchebags." Jack backed out of the double date at the last minute, deciding he would prefer to spend his last few hours trying to make something work with Christen. Needless to say, Haley did not take it well. She threw a full-on screaming fit (one to match Emily's earlier tantrum) and the twins both stormed out of Paradise for good. I'm not exactly sure how they went from lovably clueless to atrocious monsters, but maybe Freeform fame isn't good for everyone.