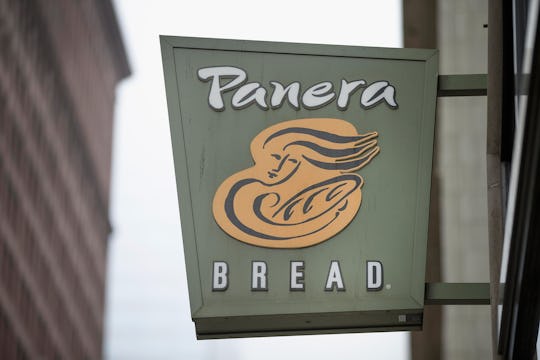 Scott Olson/Getty Images News/Getty Images
Panera Bread Has Items On Their Menu That Could Help Increase Milk Supply
Did you know that everyone's favorite eatery has several options that could be perfect for nursing moms? Panera Bread is far more than just a bagel stop these days, with a full, newly revamped menu including a wide variety of healthy breakfast and lunch options. It's a go-to for people of all ages, but for nursing moms specifically, there is a Panera Bread order that could increase your milk supply that you won't want to miss the next time you're dining at one of their locations.
From a healthy breakfast option to soup and salad combo, there's more than one Panera order that's great for breastfeeding moms. How can a meal help give your milk supply a boost in the right direction, you ask? In more ways than one, it turns out. According to the American Pregnancy Association (APA), foods that are thought to boost a woman's milk production are called galactagogues. Galactagogues work through targeting and boosting the milk making hormone prolactin and through giving moms an overall boost in nutrition (usually iron, protein, and omega-3's) and hydration.
Although the experts aren't certain that these ingredients will significantly boost your supply (as in, don't expect to be pumping buckets after eating an oatmeal cookie), they are thought to be overall beneficial for lactating moms. And if you can give your milk supply a little boost and eat at Panera, why the heck not? Here are two meals that will tempt you whether you're a nursing mom or not.