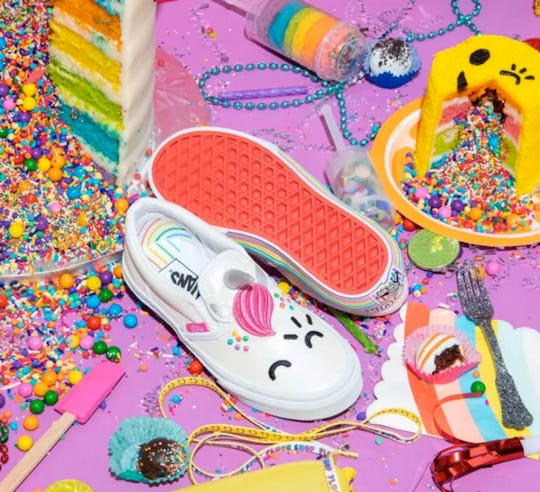 Vans
I Can't Stop Staring At All The Glittery New Kicks From The New Vans Collab
Kids' footwear sure has come a long way from basic (and boring) white sneaks. But if you want shoes that are as colorful as your kiddo's personality, you'll definitely want to check out the Vans X FLOUR SHOP collaboration, a whimsical mix of rainbows, sprinkles, and unicorns that's deliciously adorable.
There's nothing like sprinkles to put a smile on your face, whether they're adorning a birthday cake or sprinkled all over a pair of kids' sneakers, and that's what makes the collab between Vans and Amirah Kassem, cult-favorite baker and founder of FLOUR SHOP, so sweet. You've likely seen the baker's rainbow cakes all over your Instagram feed. Covered in sprinkles, edible glitter, and bright illustrations, they're truly a bonanza of brightly-hued happiness, and the partnership makes these smile-inducing designs actually wearable.
"The Vans x FLOUR SHOP collaboration combines all of the happiest things including rainbows, glitter, and unicorns, in a way that really expresses the birthday lifestyle," Kassem said in a statement.
The collection is comprised of footwear, apparel (tee shirts and long-sleeved shirts), and even sunglasses and socks. But even if you choose a beanie or a backpack, all of the items from the Vans X FLOUR SHOP collab have one thing in common: color… and lots of it.