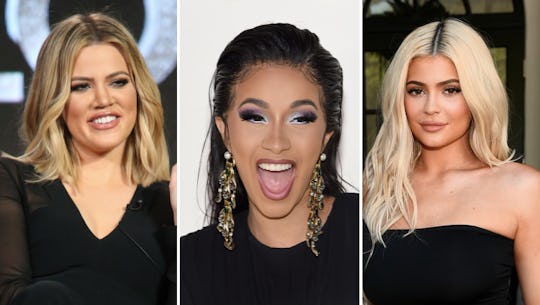 Emma McIntyre/Getty Images Entertainment/Getty Images/ Frederick M. Brown/Getty Images Entertainment/Getty Images/ Jamie McCarthy/Getty Images Entertainment/Getty Images
Even Celebs Are Obsessed With The Viral 'Baby Shark' Craze... Just Like The Rest Of Us
Apparently there is no parent on this planet who can escape the "Baby Shark" phenomenon, no parent who enjoys access to the internet at any rate. Whether you're a regular mom like myself or a famous mom like someone else, your kid is going to make you listen to it until you think you're going to lose your mind and then a thousand more times after that. It's a weirdly poetic symbol of parental unity, I suppose; we're all being tortured together. There is no escape. In fact, the viral "Baby Shark" craze even has celebrities obsessed, and they have access to way more stuff than we do on account of all their fame and money, so that's really saying something.
If you haven't heard of the "Baby Shark" song and the dance that accompanies it, let me start by saying welcome to the internet. Also get ready to be tortured by this particular ear worm for hours and even days to come. The song, which is basically about different shark family members (baby, mommy, daddy, grandma, grandpa) singing do-do-do-do-do-do and dancing until it's time to run and hide. Do-do-do-do-do-do. The song by Korean song creator Pinkfong originally became a massive hit in Indonesia years ago, but it has spread its tentacles far beyond thanks to YouTube, with more than 3.3 billion views and counting every day.
Some of those views were even by celebrity moms made famous by the internet themselves and their babies.
Kylie Jenner, Lip Kit mogul and nearly-billionaire, is mom to 7-month-old baby girl Stormi Webster. Let's all take a moment to think about the sort of life we expect a 21-year-old reality star and social media queen to be living. Wandering around her Tuscan-style mansion in the Hidden Hills area of Los Angeles, California, wearing custom couture and planning her next holiday on some private island. She probably does these things, but while she's doing them she has the "Baby Shark" song playing on repeat in her head. As evidenced by the caption she shared on this photo of her in an orange dress on Instagram:
maaamaa shark dooo doo doo dooo
Well, maybe Kylie doesn't have the song on constant repeat since it's "mommy shark" not "maamaa shark," but let's not get too cerebral about the situation here. She's clearly been exposed to the viral sensation, as has her older sister Khloé Kardashian. The mom of 5-month-old baby girl True Thompson posted on Kylie's wall:
Omg yes!! Baaaaby shark!!!!! Dooo dooooo. Wow we really are moms aren't we?
They aren't the only new moms to be obsessed with the "Baby Shark" song. I mean, you know it's a pretty serious obsession when a famous performer like Cardi B, who gave birth to daughter Kulture Kiara back in July, can't help referencing the song. Although she managed to put her own spin on it, as per usual. "Baby shark tututuruturutu baby shark," she shared in a tweet.
TODAY show host Hoda Kotb even got in on the action. Kotb's daughter Haley Joy was born in February 2017, which means she's 18 months old. Which also means you know that kid is making her mom put on the "Baby Shark" song constantly.
Should parents take comfort in knowing that there is simply no escaping "Baby Shark" no matter how famous you are, or how successful, or how wealthy? Or is this actually a depressing reality... that no one is safe from the all-encompassing dominion of "Baby Shark?"
With any luck, kids will start to get bored of the song in the near future. But as a parent of four kids I can promise you this... another song just like it will come. And it will be just as insidious and catchy as "Baby Shark."