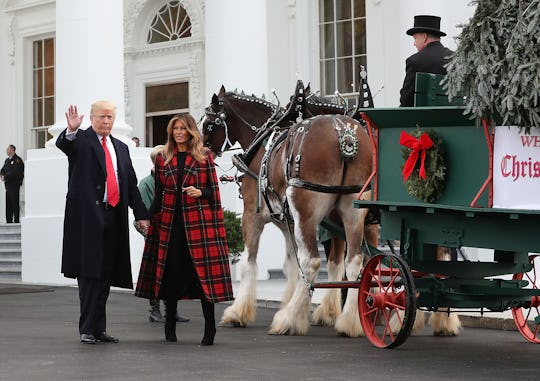 Mark Wilson/Getty Images News/Getty Images
Twitter Has Some Thoughts About The White House's 2018 Christmas Decorations
Now that Thanksgiving has come and gone, holiday preparations at the White House have taken over, and once again, First Lady Melania Trump has taken up the task of ushering in the festive season. Much like the design scheme she chose in 2017 though, the White House's 2018 Christmas decorations have Twitter divided. While, again, supporters see her signature style as the height of holiday patriotism, many are scratching their heads over her rather unorthodox Christmas aesthetic for the second year in a row.
Melania revealed this year's Christmas decorations in a statement Monday, according to TIME, and said that this year's theme — which she reportedly began planning in August — was "American Treasures," and that it "honors the heart and spirit of the American people."
Though it's not entirely obvious just what "American Treasures" actually means, it does seem that it involves a lot of trees. In a video clip revealing the decor, Melania could be seen walking through the decorated residence, with lit Christmas trees everywhere, including one which appeared to be decked out in custom "Be Best" ornaments. Yet, it wasn't just the usual string-light-covered, green fir trees lining the halls: the first lady also installed rows of undecorated, deep red trees, and it was that element in particular that seemed to catch the eye of those on social media.
For one, well, the hallway of red trees honestly looks a bit unsettling, and many Twitter users couldn't help but note that it evoked some rather uncomfortable imagery. There were, for example, the comparisons to The Shining:
And then, to The Handmaid's Tale:
In fact, the consensus mostly seemed to be that the look is pretty much straight out of a horror film:
Then again, that's not entirely surprising, given what the first lady came up with for her first Christmas in the White House. Much like this year's hall of red trees, many felt her decision to fill a White House hallway with bottom-lit bundles of white branches last year gave off a distinctly eery vibe.
At the very least, it seems she's a big believer in continuity?
But beyond simply taking aim at Melania's design though, there were also those who felt the reveal seemed particularly inappropriate given the current political climate. At the same time that White House staff were putting the finishing touches on the decorations, for example, Central American asylum-seekers were being tear gassed by the the U.S. Customs and Border Protection Agency at the Mexico-United States border, after they'd also been deemed "an invasion" full of "stone-cold criminals" by the president himself.
But it's not just the migrant caravan; while the president and first lady may be gearing up for a joyous holiday season in an elaborately decorated home, Northern California's deadly Camp Fire had only just been deemed fully contained Sunday, according to People, after burning more than 153,000 acres, and leaving 85 people dead. Though the government's 2014 National Climate Assessment report noted that "climate change is increasing the vulnerability of many U.S. forests" to fires, Trump instead blamed "gross mismanagement" by the state, according to The Guardian.
Of course, decorating the White House for the holidays is a yearly tradition, and as first lady, Melania technically has the right to style the residence as she sees fit. But the fact that she's once again opted for such a distinct, and rather unsettling, look seems pretty noteworthy. Yet, as social media has proven for a second straight year, it also somehow feels kind of appropriate, given that these days, the world in general feels rather scary.