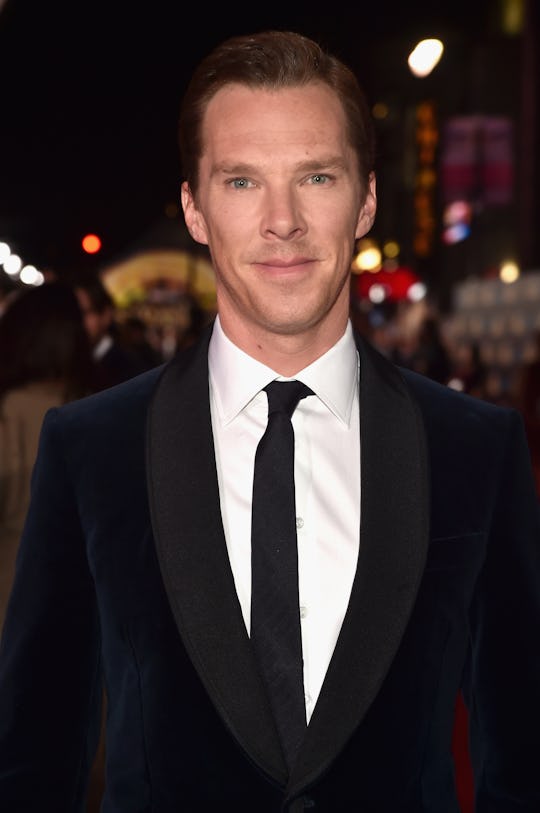 Alberto E. Rodriguez/Getty Images Entertainment/Getty Images
The Why Is Benedict Cumberbatch Hot Skit On 'Saturday Night Live' Makes Twitter Swoon
To know Benedict Cumberbatch is to love him, and to see him in action in one of his movies or on Sherlock is to really appreciate his attractiveness. Apparently even he knows this, though, which is why the 'Why Is Benedict Cumberbatch Hot' skit on Saturday Night Live worked so well. Because while most of us can see it so well, there are still those awful naysayers out there who don't get the world's obsession with him, and Twitter knows what's up. It's almost like when you know someone personally and their personality and mannerisms make them even more attractive than they already are and, literally, to know them is to see how hot they are.
That's why the 'Why Is Benedict Cumberbatch Hot' skit was almost necessary at this point, because if you're a fan and you know someone who isn't, then you've undoubtedly fielded that sort of question. And after you rolled your eyes at them, hard, you probably did the sort of thing that Aidy Bryant did and simply give noises and a few "hubba hubba" non-words to describe why Cumberbatch is, in fact, the glorious creature that he is. In fact, she kind of hit it on the nose there and if I didn't love her before, then she's got my undying support now. Because that was legitimately the best way to answer the question of whether or not Cumberbatch is hot.
The 'Is Benedict Cumberbatch Hot' skit on SNL addressed the very real struggle of dealing with people who just don't get it and Twitter swooned over the skit. Because Twitter knows how annoying and true it can be.
One of the best parts about the skit, though, was every comparison Cumberbatch pointed out about himself. Like his supposed likeness to a hammer head shark or the character of Sid the Sloth from Ice Age, proving just how willing he is to laugh at himself, thereby making him more charming than ever. And in the end, even the game show host himself couldn't help but fall for his charisma.
Beck Bennett went from comparing himself to Cumberbatch and urging the women of the game show to choose him over the Sherlock star, to being smitten himself. Because that's what Cumberbatch does.
The 'Why Is Benedict Cumberbatch Hot' skit on SNL helped show everyone just how hot the actor is, whether you're a longtime fan or newcomer to the Cumberbatch-mania. Hubba hubba is literally the best response to the question of whether or not Cumberbatch is legitimately hot.