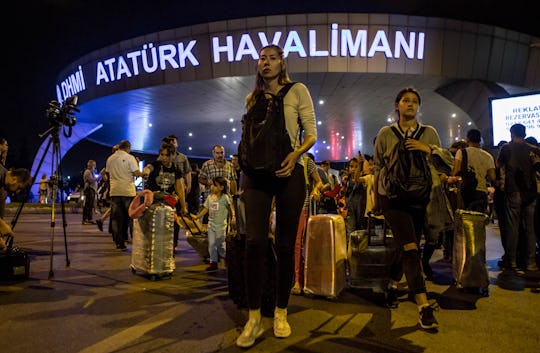 Defne Karadeniz/Getty Images News/Getty Images
The Wrong Response To The Istanbul Airport Attacks
Ataturk International Airport was attacked by three suicide bombers on Tuesday, killing at least 31 people and injuring hundreds more. All flights have been suspended, forensic and emergency crews are on the scene trying to make sense of the chaos. Video footage has been released of terrified victims hiding in stores and under shelves, crying and trying to shield each other. As the world tries to piece together the circumstances leading up to Tuesday's tragic events, it's important to remember that there is a wrong way to respond to the Istanbul airport attack.
Fear-mongering is not the way to go. It solves nothing. And people are already so terrified. One only has to log on to the internet to see the faces of the victims in Istanbul to get a sense of real fear. Turkey has been rocked with frequent terrorist attacks from Islamic State militants and Kurdish extremists in recent months, many of whom have been fighting the Turkish government in the South, so the tension following yet another massive attack like the one at Ataturk Airport has only served to compound that tension and unease.
While neither group has claimed responsibility for this new attack, experts have reported that it looked to be a well-organized, coordinated event which was (most likely) carried out by domestic terrorists.
But despite all the fear and grief following the Istanbul Ataturk attack, it still doesn't warrant the type of response that was officially released by presumptive GOP nominee Donald Trump's camp on Tuesday:
On the surface, Republican Presidential Candidate Donald Trump's comments seem innocent enough. Of course the terrorist attacks were horrible. Of course we want to keep America safe. But therein lies the rub: It's not just America we need to keep safe. It's not good enough to shut down our borders and draw our blinds closed retreat from the rest of the world. Everyone — everyone — in this world deserves to feel safe. And at a time like this, when there are people dying on the other side of the planet, our thoughts and concern should be for what they are suffering through right this moment, instead of thinking, "OK that's sad and everything but what about me? How will this affect me?"
It's understandable, in so many ways. We as human beings need to personalize loss. It is the very nature of empathy that has us putting ourselves in someone else's shoes. But the whole point of empathy is to be able to understand someone else's pain. To want to help them. Closing ourselves off and saying, "Oh well, too bad for the rest of the world" is just not the answer. It's never been the answer.
Instead, in the wake of tragedy like the kind in Istanbul, the only proper thing to do is to make a promise to others to help them:
The only answer is (and I hate that I'm quoting High School Musical here) we're all in this together. United We Stand, Divided We Fall. It's a simplistic vision, sure, but it doesn't make it any less true.
In the words of Turkish President Recep Tayyip Erdogan in a written statement after the Istanbul airport attacks:
The bombs that went off in Istanbul today could have gone off in any city in the world, in any airport. I want everyone to understand that, to the terrorists, there is no difference between Istanbul and London, Ankara and Berlin, Izmir and Chicago. Unless we come together as all countries and as all people, and fight against the terrorists together, all possibilities that we can't even dare think of right now will come true.