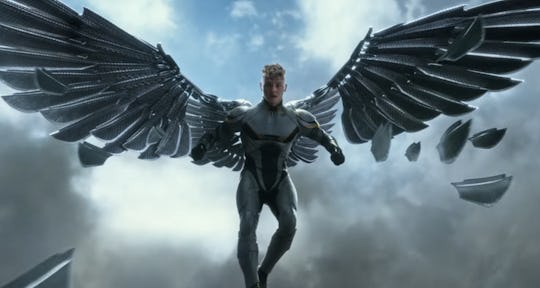 The 'X-Men: Apocalypse' Trailer Is Here, & Here's What It's Telling Us So Far
The X-Men:Apocalypse trailer came out today and the first thing I thought of when I saw it was that I wish I hadn't, so I could watch it over and over again with a fresh mind — it is that good, and plenty awesome enough to tide us over until the movie is released on May 27 next year. Yes, that sounds impossibly far away but the X-Men: Apocalypse trailer is definitely enough to satisfy us (eh, at least for a little while). It isn't the sort of rude teaser where you get a tiny taste and glimpse of Charles's wheelchair or something. Nope, this is an actual, full-length, in-depth trailer that tells us who is coming back, who still holds villain status, who's now a good guy, and a closer look at a lot of the X-Men whose origins fans have been asking for. (Well, more like demanding, but who's keeping track, right?) We can all keep thanking Marvel for pumping out the movies that pretty much anyone can devour and then be happy paying tons more to see the movies over and over again.
The X-Men: Apocalypse trailer tells us right away that we're pushed back to the past, instead of exploring present-day mutants like Rogue or Kitty Pryde. Instead, we see a young Charles still very much recruiting fellow mutants, including a young Jean Grey (ahh!), played by freaking Sansa Stark! OK, she may be Sophie Turner in our world, but Jean Grey is a pretty powerful badass who Sansa could stand to learn a few things from.
We also get a closer look at the villain of X-men: Apocalypse: the centuries-old En Sabah Nur, aka Apocalypse, played by Oscar Isaac, whose sidekicks are the Four Horsemen. In this installment, one of those sidekicks will (sadly) be Magneto. I always tend to have a soft spot for him and his plight to allow mutants to just be themselves, while having a totally loving bromance with Charles. But I know, that time is long gone, I get it. I can still mourn, though.
At least Mystique, still played perfectly by Jennifer Lawrence, is still fighting for the good guys this time around. It's no secret that she tends to jump from sides and, ahem, into different beds (#noslutshame). But it's nice to see her (at least in the trailer) sticking by Charles's side, along with the other X-Men.
And what have we been told exactly in this seriously cool trailer?