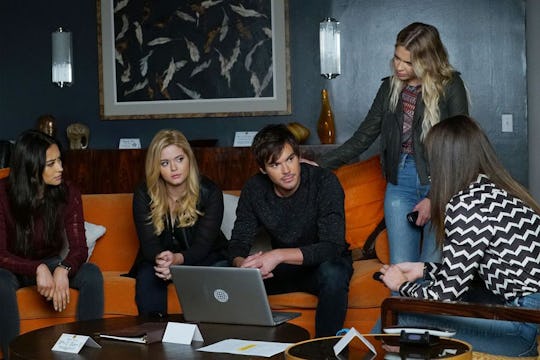 Byron Cohen/Freeform
These Theories Of How 'PLL' Will End May Surprise Even Diehard Fans
Believe it or not, there's only three episodes left of Pretty Little Liars, which means fans will finally get all the answers they've been waiting for very soon. That doesn't mean they've stopped theorizing though. There are still plenty of theories about how Pretty Little Liars will end, and while there are some things most fans agree on, there are others that fans remain divided about. For instance, no one really knows who A.D. is and everyone has their own theories about who that'll be. There are also questions about which couples will actually get married, or even end up together at all, by the end of the series.
Besides that, there's theories about spin-offs, who will die, Charlotte's killer, Spencer's possible twin, and so much more. It's a wonder how the show will even cover it all; many fans are worried it won't. No matter what happens in the finale though, fans will always have their theories, and until that final episode airs there will probably be even more theories about what's really going on in Rosewood. Sometimes the theories are even more fun than what actually occurs and it'll be sad to say goodbye to the creative Reddit threads and Tumblr posts when the show comes to a close. But before that happens, here's some of the best theories of how Pretty Little Liars will end its final season.
Mona & Caleb Will Die
After Instagram user @aravenswoodrosewoodliar posted the above image from a promo for a special to air after the PLL series finale, titled Dead Liars Tell All, fans are convinced Mona and Caleb are the two people on the left and that means they'll die before the show ends.
Mrs. DiLaurentis Isn't Dead; Mary Drake Is
In the PLL books, one of the biggest reveals was that Alison wasn't actually dead but it was her twin sister who had died and Alison had killed her before taking on her identity. Similarly, many fans believes Mary Drake is actually Jessica DiLaurentis, who killed her sister and assumed her identity shortly thereafter.
All The Liars Are A.D.
Tumblr user on-parraddise suggests "A" has actually been texting all the Liars to do terrible things to each other, like Aria's been doing, and the Liars have actually all been working against each other the whole time. A.D. is just their puppet master, but it's really just been the Liars torturing one another.
The Finale Will Lead To An Addison Derringer Spin-Off
There's been rumors that creator I. Marlene King will bring PLL author Sara Shepherd's other series, The Perfectionists, to the small screen in the future. Many fans believe the PLL finale will lead to the beginning of The Perfectionists, with Addison as the main character.
Charlotte Isn't Dead, She's A.D.
Charlotte wouldn't be the first PLL character to come back to the dead, and since she was "A" before, I don't think it's a big jump to think she'd torture the Liars again. The only questions is, why?
Spencer Has An Evil Twin & She's Working With Wren
This is an older theory, but ever since "Spencer" was seen at the airport with Wren, fans are positive the theory is true and that Spencer not only has an evil twin, but she's also A.D. They also suspect she's been working with Wren to torture the Liars.
To find out which, if any of these theories are actually proven, make sure to keep watching Pretty Little Liars on Tuesdays at 8 p.m. ET on Freeform.