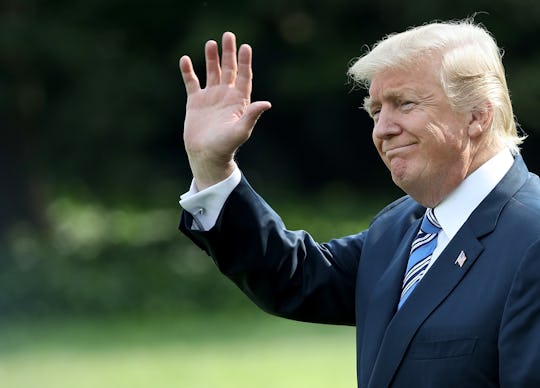 Win McNamee/Getty Images News/Getty Images
Apparently, There May Be A Plan Inside The White House To Get Rid Of Trump
It seems President Donald Trump may not have as many supporters in his own administration as he may have originally thought. Former communications director Anthony Scaramucci is talking to the press after being ousted from his position a mere two weeks into the gig, and he has some potentially explosive news (if it's true). According to Scaramucci, there may be a plan inside the White House to get rid of Trump, and now we're all wringing our hands in excitement or terror — depending on which side of the fence you're swinging from.
Romper has reached out to the White House for comment regarding these alleged plans and is awaiting a response.
Scaramucci, a longtime Trump loyalist, was unceremoniously fired after 10 short-but-disastrous days as White House communications director at the end of July. Trump's decision to appoint the New York financier caused a serious staffing shift in the White House; most notably, Sean Spicer resigned as White House press secretary and Reince Priebus also resigned as White House chief of staff.
When former Secretary of Homeland Security John Kelly took over as White House chief of staff, one of his first decisions was to fire Scaramucci. Kelly reportedly saw the volatile "Mooch" as a liability, according to CNN, and didn't believe he was reliable or carried any credibility. And perhaps his profanity-laden outburst on the phone with New Yorker reporter Ryan Lizza (where he verbally attacked two White House staffers and attempted to force Lizza to give up his sources) didn't help matters much.
Now that Scaramucci is a free agent, he sat down with ABC's This Week to talk about his observations from inside the White House. And the most shocking detail? He told the news outlet that there was a plan within Trump's administration that did not seem supportive of the POTUS. According to This Week, he said:
What happens in Washington... is the president is not a representative of the political establishment class, so for whatever reason the people have made a decision that they want to eject him.
Scaramucci continued that Trump should consider surrounding himself with "more loyalists," and told George Stephanopoulos on Sunday:
I think there are elements inside of Washington, also inclusive in the White House, that are not necessarily abetting the president's interests or his agenda.
Whether or not Scaramucci's conspiracy theory about a potential plot to oust Trump from the White House is true is anyone's guess at this point. There is certainly evidence that the staffing situation in the White House appears to be an ever-present concern, and the president himself has complained of constant leaks from inside his administration. In fact, Trump even reportedly believes one of his closest advisers could be behind the leaks: Chief strategist Steve Bannon.
Of course, it's perfectly possible that Scaramucci could have an axe to grind with Bannon. He did viciously insult Bannon during his New Yorker phone meltdown, saying:
I'm not Steve Bannon. I'm not trying to suck my own c**k. I'm not trying to build my own brand on the president's coattails.
He could be making up potential plots in the White House as a means of revenge. Or, he could be right. Stay tuned.