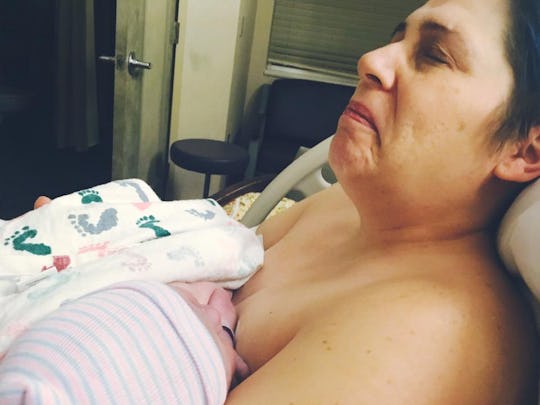 Courtesy of Steph Montgomery
These 10 Moms Suffered Childbirth Injuries & They're Absolutely Horrifying
I knew childbirth would hurt. I mean, I think just about everyone has received that particular memo. I didn't know, however, that giving birth might actually hurt me, as in actually injure my body. Over a year after my last delivery, I still have pain and incontinence due to childbirth. I'm not alone, either. When I've asked other moms, they described their childbirth injuries that were either similar, or worse, than mine. (Warning: their stories are graphic, awful, and infuriating.)
While the pain of childbirth is well-known, not a lot of soon-to-be moms are aware that they can experience long-lasting, and even life-changing, injuries during labor and delivery. I knew vaginal childbirth — pushing a watermelon-sized human being out of a small hole — would be less than pleasant. I knew it could potentially cause tearing of your perineum, which, according to Parents, happens to 95 percent of first-time moms. But I had no idea that childbirth injuries can also cause conditions and injuries like urinary and fecal incontinence, back pain, sexual dysfunction, pelvic pain, dislocated joints, infections, and broken bones.
According to a 2015 study of 1,574 new moms, 77 percent still had back pain, 49 percent had urinary incontinence, and 40 percent had both of those symptoms 12 months after childbirth. Not surprisingly, the same study reports that the injuries sustained during childbirth can negatively impact women's lives.
So, why aren't we talking about it? I think part of the problem is that these conditions can be more than a little embarrassing. I don't really want to talk about vaginal tearing, pain during sex, or peeing when I sneeze, with anyone, including a medical provider. At the same time, I sort of feel like if perineal tearing or urinary incontinence happened to new dads, there would be an awareness campaign or a cure by now. So I say it's time we start listening to women's stories about childbirth injuries, and not dismissing these things as a "normal" part of motherhood that we should just get over or deal with. Read on for a few stories from brave and fed-up women to help get this discussion started.