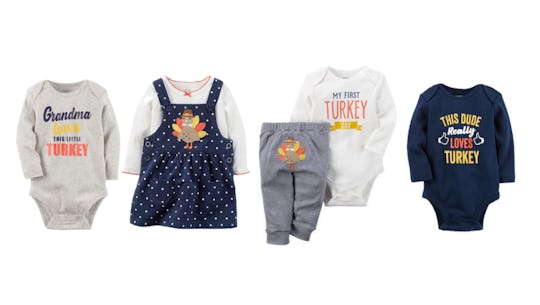 Carter's
These Adorable First Thanksgiving Outfits Are Perfect For Your Little Sweet Potato
The first 12 months of your baby's life are full of wonderful firsts. Along with first smiles and steps, parents love celebrating their baby's first holidays. You can take adorable pictures in their perfect, cute little outfits to commemorate each holiday, and you get to share those special moments with friends and family. No holiday says family like Thanksgiving when all your loved ones gather around to celebrate their blessings. So if you are looking to dress your little one in commemorative Thanksgiving fashion, you'll need some adorable first Thanksgiving outfits for babies to make your holiday picture perfect.
While Christmas and Easter usually have most of the holiday fashion options, Thanksgiving isn't that far behind. The holiday lends itself to wonderful, earthy fall colors, and some outfits even incorporate football, which has become part of the Thanksgiving tradition. Whether you want plenty of dressy, frilly options, or some really cute fall-related jumpers and corduroy pants, there's something for everyone. As long as your baby's first Thanksgiving outfit doesn't mind getting covered in formula, breast milk, or mashed up sweet potatoes, it should be perfect. (Also, turkeys on the butts are always a win.)
From dresses to onesies to gender neutral options, here are a few great first Thanksgiving outfits from national retailers that you can buy online and find in stores, too.