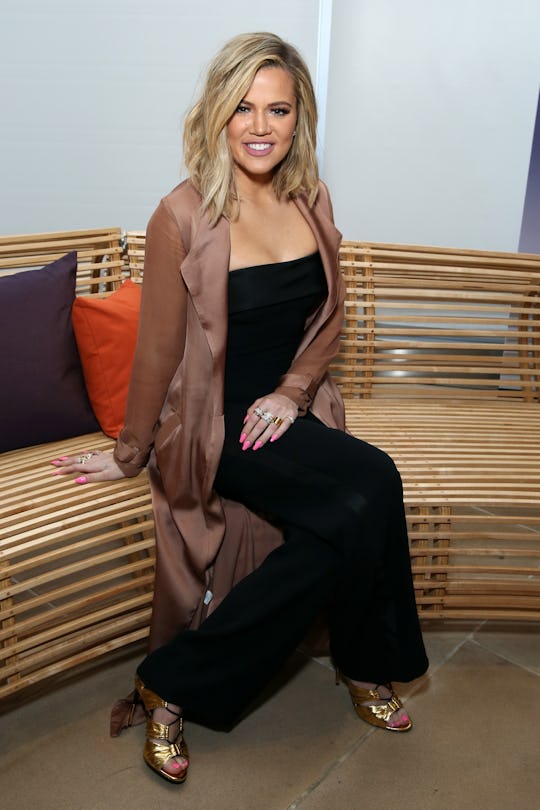 Cindy Ord/Getty Images Entertainment/Getty Images
These Are Khloé Kardashian's Favorite Parenting Apps, Because New Mom Life Ain't Easy
Though she's only been a mom for a few weeks, Khloé is already beginning to share her journey of parenthood with the world. Khloé Kardashian's favorite parenting apps, which she shared with fans on her website on Monday, will remind you that new motherhood is a lot, and the right technology can really help out.
The Daily Mail reported that Kardashian wrote on her website that she's "taking advice with a grain of salt" when it comes to parenting, because "everyone has their own style." She continued on her app: "That's why my apps and mommy sites have really come in handy. When I want a quick answer or to check in with what's considered normal, I just pick up my phone."
First, Kardashian said that she likes What To Expect, a comprehensive baby app based on the famous book, What To Expect When You're Expecting by Heidi Murkoff. "It's been a trusted resource for moms since my mom was popping us out," she joked.
Kardashian also said she loves Baby Connect, which helps her with everything from True's feedings to her diaper changes, "So crazy we have to keep track of this sh*t!" Kardashian added. "It basically helps with sanity when sleep is nonexistent. (OMG, sleeeeeeeep!)" she continued, eliciting the nods and groans of every new parent alive. Finally, Kardashian wrote that she also uses Sprout, an app written by doctors "so you know the intel is legit."
This is the first time Kardashian has spoken out about new parenthood, aside from her April 16 Instagram post that welcomed her daughter. Noticeably, she has yet to address the alleged Tristan Thompson cheating scandal. (Romper's requests for comment from both Kardashian and Thompson's reps regarding the cheating allegations were not immediately returned.) This all comes one day after Thompson also broke his social media silence, returning to Instagram to applaud his basketball team for its recent win, and earning the grimace of fans and followers who were less than happy with the fact that he didn't announce his new daughter, nor did he acknowledge Kardashian.
Though Thompson certainly does not owe Kardashian a public apology if the rumors are not true, a source reportedly told The Hollywood Reporter that an apology is what Kardashian really wants:
While Khloe is happy that Tristan has finally had a great game and really contributed his team, she is sad and disappointed that his return to social media was to promote his own accomplishments rather than to apologize publicly for cheating on her."
However, it's clear that all the drama hasn't kept Kardashian from enjoying – and taking time to adjust to – new motherhood. She also shared her mother's day gift guide on her app, suggesting products such as a diffuser, a personalized song recording, and One Line a Day: A Five Year Memory Book. "This Mother's Day will be the most special yet! I still can't believe I'm a mom – it feels like such an honor," Kardashian wrote. "Now it feels even more important to honor all the amazing women in my family!"
In addition, Kardashian's clothing line, Good American, released new matching mother-daughter sweatshirts on Tuesday. They say "Good Daughter," and "Good Mama," and retail for $98 each.
It's impossible to say whether Kardashian will ever address the Thompson rumors publicly, but right now her focus seems to be where it should be: on adjusting to life with her daughter, True. (Nobody in the KarJenner family had confirmed any of the rumors until Kim Kardashian appeared on The Ellen DeGeneres Show and said: "Like, I don't even know how to describe it besides it's just so f*cked up.")
Regardless, it's clear that Khloé is slowly adjusting to new motherhood, and thankfully, keeping fans updated as she goes.
Check out Romper's new video series, Bearing The Motherload, where disagreeing parents from different sides of an issue sit down with a mediator and talk about how to support (and not judge) each other's parenting perspectives. New episodes air Mondays on Facebook.