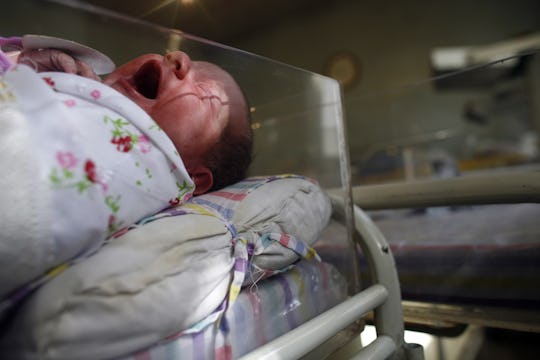 Paula Bronstein/Getty Images News/Getty Images
These Are The 5 Best NICU's In The US
When a baby is born before their due date, it can be an extremely stressful time for parents. They worry about their child's future development, about the potential financial drain, about the care their child is receiving... in short, they're just worried all the time. Which is why it's so important to know your child is getting the best possible care available. With that in mind, here are the five best NICUs in the U.S.
U.S. News and World Report looked at a total of 50 pediatric care centers throughout the Unites States, looking specifically at the care each center offered for fragile newborns. The study focused on 1,800 data points when considering the care of newborns who were born prematurely or born with infections, congenital disorders, or other serious conditions. The neonatal centers were chosen by a comprehensive U.S. News clinical survey, with a small percentage of the score provided by recommendations from pediatric specialists. Dr. Robert Sinkin of the Children's Hospital of Philadelphia (which has ranked in the top five for four years in a row) explained to The Cavalier Daily how hospitals have to stay on top of developing therapies to help their tiny patients:
The NICU continues to be on the forefront of discovery, bringing new and developing therapies and technology to Virginia's smallest and sickest newborns.
Children's National Medical Center, Washington
The Children's National Medical Center in Washington ranked number one in the country by focusing on the individual needs of every patient and reportedly offering exceptional support to families. Ben Harder of U.S. News told WTOP News:
There are lots of great hospitals in neonatology — you don't have to be No. 1 to be a great place to get neonatology care — but certainly Children's National Medical Center is very good at taking care of kids who are born and need immediate care in that critical neonatal period.
Boston Children's Hospital
The Boston Children's Hospital claimed one of the top spots on the list for the fifth year in a row, and for good reason. According to Parents, the hospital is at the forefront of researching stem-cell therapies, as well as enjoying excellent imaging technology for monitoring newborns with neurological defects.
Children's Hospital Of Philadelphia
Madeline Bell, president and CEO of the Children's Hospital of Philadelphia, shared this statement about being recognized for their excellent ongoing care with Philly.com:
We are honored to be so highly ranked in the U.S. News ranking, and to be in the company of other leading children's hospitals. It takes the ongoing expertise of everyone at CHOP to help make breakthroughs happen every day for our patients and their families.
John Hopkins Children's Center, Baltimore
The Charlotte R. Bloomberg Children's Center at Johns Hopkins in Baltimore boasts 205 private rooms, a 45-bed neonatal intensive care unit, a 40-bed pediatric intensive care unit, and 10 state-of-the-art surgical suites, according to The Hub. It has only been open since 2012, and is already ranked fourth overall in the country for neonatal care.
Rady Children's Hospital, San Diego
While Rady Children's Hospital in San Diego has been on the top ranked list for nine years, this is the first time it has broken through the top tier. The San Diego Union Tribune credited groundbreaking research in areas like pediatric genomics, a complicated DNA sequencing technique that could be used for patients in the neonatal units, as the possible secret to their recent success.
There are other hospitals in the country providing excellent care for premature babies, and of course each individual case is different. Still, it's good to know that there are some hospitals in the country that continue to push the envelope when it comes to providing better care for at-risk babies.
Let's hope they can continue.