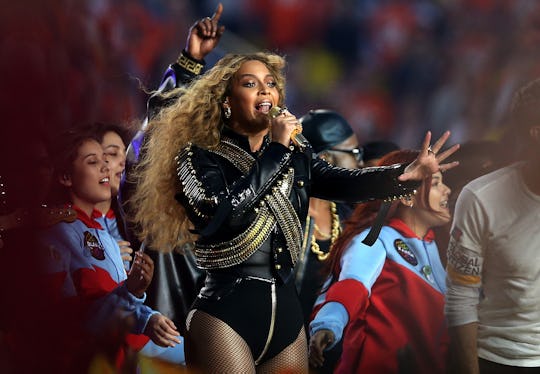 Patrick Smith/Getty Images
These Are The Best Reactions To Beyonce's Super Bowl Halftime Show
It's almost like Beyoncé was made to create killer halftime shows. Super Bowl 50 fans were seemingly getting a little too much Coldplay action during Sunday's big game if Twitter was any indication, but Beyoncé, as always, saved the day. In fact, some of the best Twitter reactions to Beyoncé's halftime show were those filled with so much joy, you might have thought it was Christmas morning again.
Beyoncé just seems to have a way of making everyone's day, doesn't she? The singer started off her halftime takeover (be honest, that's what it was) by fiercely marching down the field to her new single, "Formation." At that point, Beyoncé, backed up by her equally amazing dancers, had a mini dance-off of sorts with the always adorable Bruno Mars, as he and his crew performed the musician's hit song, "Uptown Funk."
From the choreography to the '80s throwback outfits, it was a performance. Afterward of course, both Bey and Mars joined Coldplay in a retrospective on past Super Bowl halftime shows. And although she slayed her parts, there was almost not enough Bey. (Seriously, she should have been able to do another song of her own and leave Chris Martin and Coldplay behind.)
Fans were obviously obsessed with Beyoncé's performance, but a little disappointed that the pop idol had to share the stage. Of course they were. There is not enough Beyoncé in this world, really. One fan even tweeted what everyone was thinking as the show came to a close: "Beyoncé should have had that entire halftime slot in all honesty."
In fact, most Twitter users seemed to feel that same way on Sunday night, tweeting their discontent openly:
Some Fans Were Hoping For More Cameos
Others Believed A Beyoncé Halftime Show Should Just Be A Regular Thing
Still Others Felt The Need To Thank Bey For Saving The Day
Beyoncé is always on point — but this year, she was the best thing about the whole game.