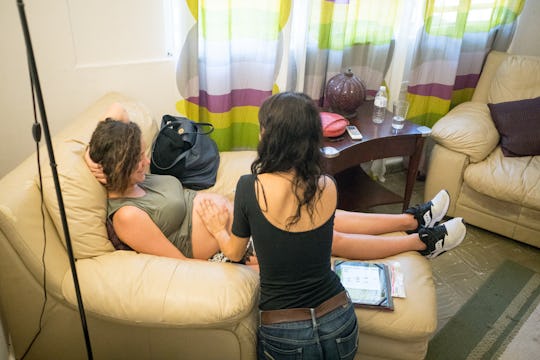 Angel Valentin/Getty Images News/Getty Images
The Top 10 Midwives In The US, As Ranked By Their Patients
Giving birth in the 21st century is all about options. Home birth vs. hospital birth. Medicated vs. non-medicated. Midwife vs. OB-GYN. Whatever decision new parents want to make, it's always important to be as well informed about possible options. With that in mind, check out the top 10 midwives in the United States, and get informed if you're trying to go an alternate route.
A midwife is someone who has successfully completed a certified program to be recognized as "responsible and accountable professional who works in partnership with women to give the necessary support, care and advice during pregnancy, labor and the postpartum period, to conduct births on the midwife's own responsibility and to provide care for the newborn and the infant," according to the International Confederation of Midwives. The goal of a dedicated midwife is to encourage women to take proper care of themselves and their babies and to advocate on behalf of women when it comes to their health and wellbeing. The World Health Organization recognizes the importance of midwives as they "play an instrumental role to introduce women to the health system and ensure that women and their babies receive a continuum of skilled care during pregnancy, childbirth, and in the important days and weeks after birth."
The following top rated midwives in the country were chosen by a site-based ranking system on Rate MD, which relies on user reviews to help patients connect with the best health practitioners in their area, and doesn't include any sort of nationally-recognized or medically official ranking system, so bear that in mind:
Nicole Staniger
This Garland, Texas midwife has been caring for patients as part of the North Texas Midwives Association since 2009. According to the association's website,
[Staniger] loves serving women through the journey of motherhood and considers it a great honor to be involved in this transitional and transformational period of a woman's life.
Kathy Fair
Fair is one of two midwives serving the Boca Raton, Florida area through the Midwifery Women's Care Center. She has over 25 years of experience in women's health care. The care center offers a wide range of services and sees a variety of patients for obstetrics, gynecology, menopause, adolescent, and teenage care.
Courtenay Grabowski
Grabowski has been specializing in helping mothers in the Detroit area give birth at home for 11 years with Mothering Naturally Birth Services. She offers childbirth education, breastfeeding support, and is also a labor assistant (or Doula). As a Doula, Grabowski has worked in several hospitals in the Detroit area, as well as assisting with home births on a regular basis.
Dr. Lee Ann Stabler
As a certified nurse midwife, Dr. Lee Ann Stabler has been helping women give birth in the Cleveland, Tennessee area for 31 years. Not only is Stabler a midwife, she's also a pediatric cardiologist and a medical doctor who studied medicine at Emory College.
Kim Kmita
In Tulsa, Oklahoma, Kim Kmita has a solid reputation as a midwife who goes above and beyond for women. She has helped deliver babies at Southcrest Hospital and has a reputation with her "repeat customers." One reviewer wrote on The Bump:
Kim is my midwife, and she is amazing!
Margaret Boyd
As a midwife in Erie, Pennsylvania, one reviewer wrote of Margaret (Peggy) Boyd's services:
The best midwife ever! This is my 5th child and I've had different midwifes but Peggy tops them all. She is so caring & understanding. She cares about your opinions, eases fears (I had lots of complications throughout pregnancy).
Boyd works with other medical professionals at Saint Vincent Hospital and out of the Margaret Boyd Clinic.
Evelina Tuers
Operating out of Clifton, New Jersey, Tuers is happily accepting new patients. Tuers started out working in the labor and delivery department of a New York City hospital, and used her years of experience to create a "real natural birthing experience" for her patients.
Colleen Sahy
The women of Hobart, Indiana count themselves lucky to have a midwife like Sahy. She is affiliated with St. Mary's Medical Center. As one reviewer wrote:
I had a wonderful experience with Colleen she is excellent, very knowledgeable
Donna Tabas
At North Jersey Midwifery Care, abas offers new mothers the chance to experience holistic, personalized birthing care.
S. Laurie Hansen
Hansen practices at Intermountain Health Care in Salt Lake City, Utah. She studied at Westminster College in Salt Lake City, earning her Bachelor of Science in Nursing in 1978.
So what do you do if you don't happen to live near one of these top-rated midwives? Check out this list of the best colleges to offer comprehensive midwife programs. If your midwife was in one of these programs, and if you establish an open dialogue with your midwife, chances are you're in good hands.