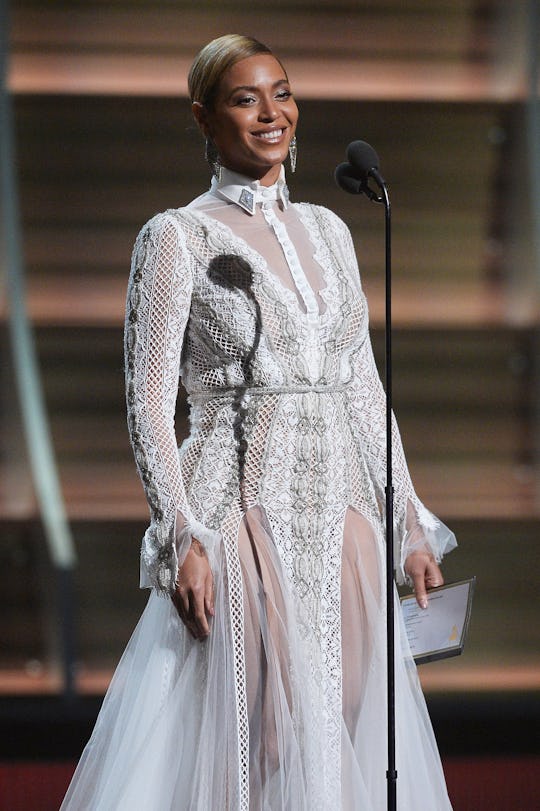 Kevork Djansezian/Getty Images Entertainment/Getty Images
These Beyonce Fan Tweets About Her Album Show People Just Cannot Take The Delay
Here we are, almost halfway through April, and still there's no new Beyoncé album. Things are reaching critical mass, my friends. While no official announcement has taken place as of yet, the new album, nicknamed B6, has long been rumored to be slated for an April release. Beyoncé dropped the single "Formation" way back in February, and her Formation tour begins at the end of the month. For a while there, the world was convinced that the new album would come out on April 4, but that date has come and gone. Even Beyoncé's fans' tweets about her new album are starting to get a little desperate.
The generally reliable Beyhive has been trying to distract fans with tweets about Beyoncé's new athleisure line, Ivy Park, and her recent Elle magazine cover. Other fan accounts are busying themselves with details (tiny, insignificant details) about the upcoming tour. But nobody, save for former professional football player Chad "Ochocinco" Johnson, seems to have any information on the album itself. But, let's be real now, Johnson doesn't exactly seem like the most trustworthy person for Bey information (or like a very cool person, generally). I can't even find any evidence that they've met. But, still, he's speculating.
So what do the fans have to say about the rumored album, now that they've been proven wrong about the April 4 release date? There are hints here and there, but we really still don't have much to go on.
We May Have Already Heard Another Song
Fans have already heard (and memorized) "Formation," but that's not the song that's heard during the ad for the "Formation" tour. Could the music be a backing track for another song on the mystery album?
The Accompanying Short Film May Have Wrapped
This screenshot of a classified ad from The New Orleans Advocate is supposedly about Beyoncé's film, but the only evidence that it's called "Project Lemonade" is a tweet from The Beyhive and a couple of Instagram pics featuring lemons that Beyoncé posted months ago.
We'll Hear Most Of It By April 27
This is pretty much a no-brainer. If Beyoncé does have a new album, of course the new songs will make up a good portion of her concert performances. It's not like she's Sting, where everyone just wants to hear classic Police hits, and heads to the concession stand or the bathroom during "Desert Rose."
It's Maybe Done?
"Official word" from whom exactly? The Beyhive gets a lot of stuff right, but let's be real, they do not have Beyoncé's phone number. Take that with a grain of salt.
There Might Be Another "Political" Song
Supposedly, there will be a new video featuring the parents of Trayvon Martin, Tamir Rice, and Mike Brown holding photos of their sons. If that's true, we can assume the lyrics to that song will be even more "political" than the polarizing "Formation." But that's a big "if." Every news article about the video is sourced from this Beyhive tweet, which links to a gossip blog called "In Flex We Trust," which got its information from an Instagram account called "Famolousent." Could it be true? Sure, why not. Does one shady Instagram post count as confirmation? Hell no.
There's Definitely An Album Coming
...Is kind of sort of what Kelly Rowland said. She also said "We haven't talked about it," so...
Or Is There?
Actually, nobody's officially confirmed it, ever. Hmm.
Above All, Fans Are Super Impatient
At least they still have their senses of humor. Maybe for now, they should just take their cue from Queen Bey herself, pull on some Ivy Park yoga pants, and have a jog to clear their minds.