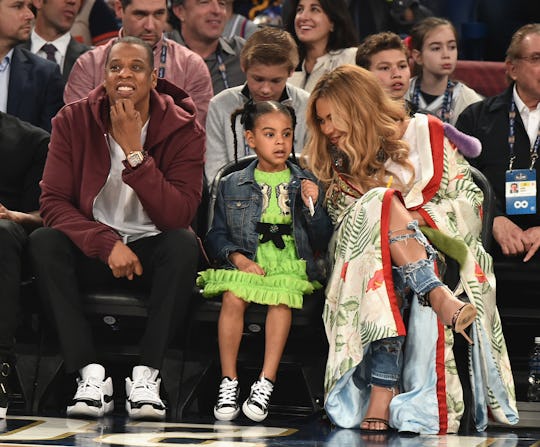 Theo Wargo/Getty Images Entertainment/Getty Images
The Blue Ivy & Beyonce Twins Memes That Honor The New Siblings
Blue Ivy is finally a big sister. News broke on Saturday evening that Beyoncé gave birth two twins earlier this week. Naturally, her fans responded in a number of ways, including creating a slew of memes about Blue Ivy and Beyoncé's twins that honor the Holy Trinity of celebrity children.
To be fair, fans have probably been working on these memes since Beyoncé announced her pregnancy in February with a, dare I say, flawless Instagram post. According to Us Weekly, which first broke the news late Saturday night, multiple sources confirmed that Beyoncé and Jay Z welcomed twins earlier this week, but the power couple have yet to announce the news themselves. As of now, there is no information regarding when the twins were officially born (if they were) or what they were named. Romper reached out to publicists for Beyoncé and Jay Z for comment, but have yet to hear back. But that's pretty understandable, right? I mean, if Beyoncé and Jay Z did in fact welcome their twins earlier this week, they have been too busy adjusting to their life as a family of five to perfect their social media announcement.
Of course, Bey and Jay aren't the only ones getting used to a bigger family. The couple's 5-year-old daughter Blue Ivy has gone from being the only child to a big sister. That's a big deal, but one she's been looking forward to. In February, a source told Us Weekly that Blue Ivy was, "so excited to be a big sister."
Judging by their memes, however, fans didn't seem to get that message. Rather than create clever memes about a Holy Trinity or completing the trifecta, the people of the world wide web decided to play up the idea that Blue Ivy is already at war with her new siblings.
First, there were the memes about Blue Ivy letting the twins know who's the boss.
Then there were the ones where Blue Ivy throws her new siblings some serious shade.
And, of course, one where the twins throw it right back.
Look, I get it. As a younger sister, I know that the sibling dynamic is difficult at best. I know multiples battles for attention can occur almost daily. I also know, however, that they can be filled with love, laughter, and a lot of support. So rather than set Blue Ivy and her twin siblings up for a rough relationship, maybe the internet should take a step back and just be happy that Beyoncé and Jay Z have expanded their family.