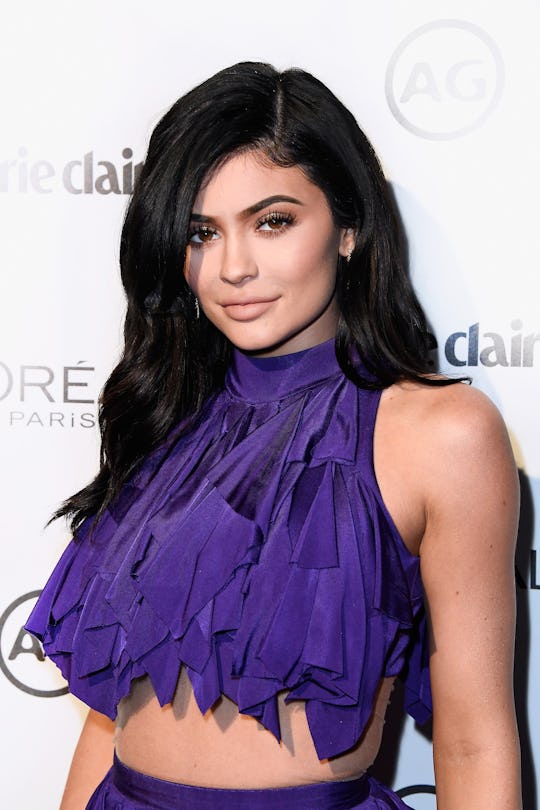 Frazer Harrison/Getty Images Entertainment/Getty Images
Fans Are Obsessing Over These Christmas Photos Of Kylie Jenner
Christmas 2017 was essentially defined by Kylie Jenner, or rather the absence of Kylie Jenner. Fans who have been playing the "is she or isn't she" game about her reported pregnancy really ramped things up over the holidays, especially with the appearance of 25 days of Kardashian Christmas cards. The longer the young makeup maven stayed out of pictures, the more desperate fans got for a glimpse of her. Which is why these Christmas photos of Kylie Jenner are so seriously precious; they might not confirm her pregnancy, but after such a long dry spell without seeing her let's face it; fans were ready for a glimpse.
While fans of the Life Of Kylie star would normally be excited to see her, this year was obviously different. Because just about every media outlet out there has been reporting since the end of September that Kylie is expecting her first child with boyfriend, rapper Travis Scott. And, as all fans are more than well aware, nobody in the KarJenner family has officially confirmed or denied the reports. Fans have just been left hanging, forced to rely on unnamed "sources" who continue to insist that she is indeed pregnant with a baby girl, and is reportedly very excited about it. As one source told People:
Kylie was really surprised but is so happy. She wants to be a mom.
After the youngest member of the KarJenner clan did not make an appearance in the 25 days of Kardashian family Christmas cards posted by sister Kim Kardashian West, there was rabid speculation that she might not be spending the holidays with her family. Or that she was simply keeping her burgeoning pregnant belly hidden. Whatever the cause, people were not happy to be deprived of a potential, definitive pregnancy reveal or denial.
While Kylie might not have appeared in any of the Kardashian Christmas cards, she most certainly was with her family for Christmas. And sister Khloé Kardashian, who confirmed her own pregnancy with boyfriend Tristan Thompson on Dec. 20, shared the pictures to prove it.
First, there was the annual Christmas Eve party thrown by momager Kris Jenner. Khloé took to the photo booth with her younger sister to post black-and-white shots. The theme of the photos (which did not confirm Kylie's pregnancy, so don't get *too* excited)? "Better Not Pout." And I have to say, neither sister fully pouted, so clearly they were paying attention.
Clearly, Kylie was at the Christmas Eve party celebrating the holidays with her family. But that doesn't mean she's quite ready to spill all of her secrets, of course. A source who was reportedly at the same party told People:
Kylie looked great, but didn't really draw any attention to her baby bump. She still acts like she wants to keep her pregnancy private. Everyone had the most amazing time. Kris always throws the best parties. It was all gorgeous. There was no drama.
And the fun continued with the famous family right into Christmas morning. The whole clan, including Kylie and brother Rob Kardashian, gathered at sister Kourtney's house on Christmas morning in matching elf onesies and beanies. Khloé shared a video of the two sisters as bunnies from the festivities, and even made reference to the rumors about Kylie's supposed absences in the video.
The Good American designer said in the video she shared to Snapchat, "People think you weren't there last night."
And Kylie answered, "I was!"
Khloé wisely pointed out that her youngest sister was a "tricky little bunny," and then they went about their day.
Because let's face it; as much as fans might like to get the details of Kylie's pregnancy, she doesn't owe anyone an explanation. If she's looking for a little time out of the spotlight to enjoy this time in her life, good on her.
Although I'm relieved to see the whole family was together for Christmas.
Moving on.
Check out Romper's new video series, Romper's Doula Diaries:
Watch full episodes of Romper's Doula Diaries on Facebook Watch.