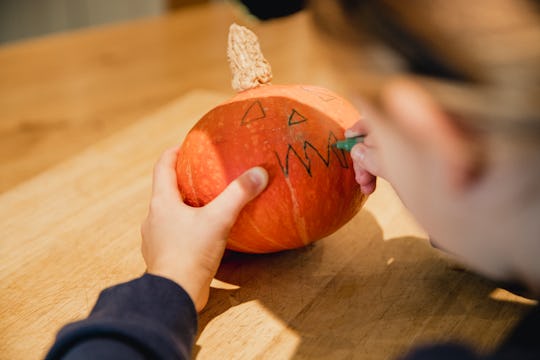 SolStock/Getty
12 Halloween Ideas From Teachers To Keep Kids Engaged & Excited About The Holiday
Holidays were so much fun back in elementary school. Do you remember? There were themed activities, fun art, parties, and more. This year, Halloween celebrations may look a bit different for many kids, but there are some things teachers are doing for Halloween this year to make sure kids still have a blast.
"It's really important to our community to keep the hallmarks of the holistic learning environment going as we work remotely," Meredith Essalat, elementary school principal and author of The Overly Honest Teacher, tells Romper. Remember all summer when you worried about kids still having the best parts of school, like community engagement and friendship and, yes, themed parties? Well teachers are working tirelessly to figure things out, and are constantly coming up with fun ideas to keep kids happy and engaged — including holidays.
Patty Duncan, an education specialist with more than 30 years of experience teaching both students and educators tells Romper, "This Halloween may be disappointing to some, but when life gives us smashed pumpkins, we make pumpkin pie." And she and Essalat have some great ideas to make Halloween 2020 a great day and to ensure kids can still have fun and celebrate, no matter if they're learning in-person or at home virtually this year. So whether you need ideas as a room mom or are looking for ways to help your child celebrate when their usual traditions are unavailable, this is a great list.