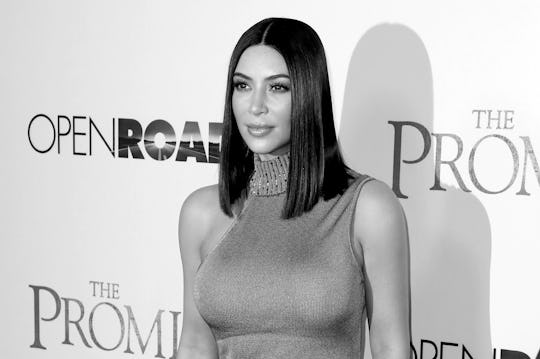 Frederick M. Brown/Getty Images Entertainment/Getty Images
These Details About Kim Kardashian's 3rd Child Via Surrogate Are So Exciting
Kim Kardashian-West and her husband, rapper Kanye West, are reportedly expecting another baby. The parents of 4-year-old North and 2-year-old Saint have made the decision to have their third child via a surrogate, in consideration of the reality star's health scares during both of her pregnancies. So here is what we know about Kardashian's third child so far.
According to Us Weekly, it seems that Kardashian's surrogate is a San Diego-based mom in her 20s who has actually been through the process before. The surrogate is also reportedly already three months into her pregnancy with the third Kardashian-West child, which would mean the baby should arrive at the beginning of 2018.
The Keeping Up With The Kardashians star and clothing designer struggled throughout her first two pregnancies as the result of a condition called placenta accreta, a rare condition where "the placenta grows so deeply into the uterus that it cannot be separated after delivery," according to Parents magazine. Dr. Nathaniel DeNicola explained to the news outlet that placenta accreta can cause infertility because it can cause significant scar tissue to form in the uterus during pregnancy. In some cases, the uterus is so scarred it might even have to be removed through a Cesarean Hysterectomy.
Despite the fact that a third pregnancy could be incredibly dangerous for Kardashian, she told Ellen DeGeneres in 2014 that she and her husband were keen to continue to grow their family because that was a dynamic she recognized and enjoyed.
I have so many siblings and I love it, they're my best friends and I would love that for my kids.
She also told the talk show host that she initially "wanted at least six" children, but after her difficult pregnancy she rethought the numbers.
No word on whether Kardashian would still like six kids, but it looks as though she has at least one more in store. The surrogate carrying the couple's child (or children; there remains the possibility that she could be carrying multiples) has reportedly signed a contract with instructions about her wellness and general health care. No raw fish, no alcohol, drugs, or tobacco, no handling kitty litter, that kind of thing. The contract is considered fairly standard, as is the whopping sum the Kardashian-Wests paid the firm that helped connect them to their surrogate: $68,850, with a further $45,000 to be paid to the surrogate in 10-month installments, according to TMZ. The contract also reportedly stated Kardashian and West would "assume the legal and parental responsibilities for any child ... that may possess any congenital or other abnormalities or defects."
The news of Kardashian-West's decision to look for a surrogate should come as no surprise to fans of her wildly popular reality show; she opened up to mom Kris Jenner in a recent episode:
I've come to the conclusion in my mind that I can't carry another one. So now I want to explore surrogacy.
Kardashian-West's struggle with her pregnancies forced her to make a tough decision, and it seems as though she made an informed choice. Here's hoping all goes well.