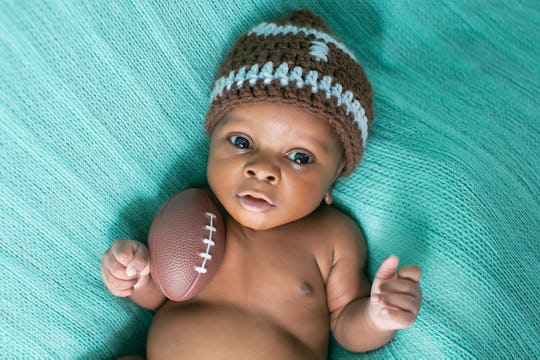 Shutterstock
These Football-Themed Baby Announcements Are Better Than College GameDay
Please don't fumble when holding one of these little footballs. Whether your whole family enjoys football together or you're staging special photos for a sports lover in your life, football-themed birth announcements are a super cute way to commemorate adding a new fan to the stands. These ideas work perfectly for professional photoshoots or just snapping pics casually at home or in the hospital.
Letmommysleep.com suggested that the best age to schedule your baby's newborn photoshoot is within the first two weeks after birth; after that, babies tend to start uncurling and not sleeping in those cutesy little balls like you imagine when thinking of newborn photos. Also, newer babies tend to sleep more deeply, more often, so capturing images of them holding still is that much easier. Having professional images ensures that your printed birth announcements (if you're choosing to print and mail any at all) come out looking perfect, and you can treasure memories of your brand new baby forever.
On the other hand, you may not be ready to have your baby photographed that quickly after birth, and who could blame you? If you're hoping to capture some cute images of your baby yourself, that's great, too. Either way, these football fan parents found ways to incorporate their beloved teams into some pretty precious baby pics.