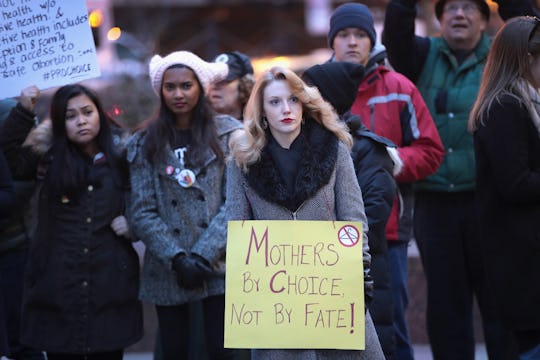 Scott Olson/Getty Images News/Getty Images
These Groups Are Fighting Arkansas' Extreme Anti-Abortion Bills
It looks like the American Civil Liberties Union and the Center for Reproductive Rights aren't planning on letting Arkansas restrict women's choice without a fight. Three of Arkansas' newest and most extreme anti-abortion regulations are set to go into effect by the end of July this year (the fourth is slated to take effect on Jan. 1), but the two civil liberties law groups are taking Arkansas' new anti-abortion bills to court in an effort to block the measures.
The ACLU and the Center for Reproductive Rights are tackling four measures that would severely limit access to abortion in Arkansas. The first, H.B. 1032, would ban a well-known and safe second-trimester procedure, dilation and extraction (D&X), making it punishable by up to six years in prison or $10,000. According to the Associated Press, nearly a fifth of all abortions in Arkansas in 2015 were D&X procedures, meaning the new law could outlaw a common procedure women routinely rely on.
H.B. 1566, the chilling second law the groups are zeroing in on, would require women's partners or family members to be notified of the abortion, and allow them to place a court order to block it, essentially letting others to make decisions regarding a woman's body.
Another law being targeted by the two groups, H.B. 2024, would require abortion providers to report young women's abortions to local police in order to carry out the procedure. According to Rewire, private medical information would have to be given to local officers and fetal tissue would have to be preserved as "evidence."
The last measure being tackled by the ACLU and the Center for Reproductive Rights is H.B. 1434, which would force abortion providers to investigate a woman's medical history before proceeding with an abortion. The law was explained as a way to ensure that women are not obtaining abortions simply because their fetus is a certain sex, but it could delay women's abortions and violate patient privacy.
"Arkansas politicians have devised new and cruel ways to rob women of their right to safe and legal abortion this year—and we're fighting back," Nancy Northup, president and CEO of the Center for Reproductive Rights, said in a statement. "The Supreme Court made clear one year ago in Whole Woman's Health that politicians can't stand between women and their constitutional rights."
"Arkansas politicians have passed extreme abortion bans that put their political agenda ahead of women's health," Talcott Camp, deputy director of the ACLU's Reproductive Freedom Project, added in a statement. "No more. We're fighting back."
By federal law, women deserve access to abortion and control over their own bodies. No one else should be handed control over women's choices, and women shouldn't have to abandon their right to privacy or jump through hoops in order to make a choice that's right for them. If you'd like to support the ACLU or the Center for Reproductive Rights, consider donating online or volunteering your time with the organizations — because women across the country deserve unfettered access to safe health care, regardless of their politicians' opinions.