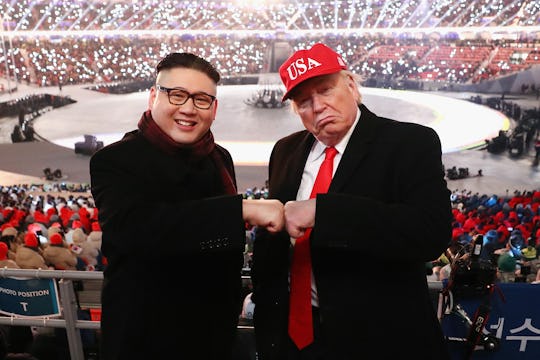 Ryan Pierse/Getty Images Sport/Getty Images
These Kim Jong-Un & Donald Trump Impersonators Tried To Crash The Opening Ceremony
The 2018 Winter Olympics are officially underway! Olympic athletes, coaches, world leaders, entertainers, members of the media, and sports fans came together Friday to celebrate the opening ceremony of the Olympic Games in PyeongChang, South Korea. It's safe to say, though, that no one expected President Donald Trump and North Korean dictator Kim Jong-Un to make an appearance in the Olympic city on Friday, but there they were. Well, not those two men, exactly: They were Kim Jong-Un and Donald Trump impersonators, and when they tried to crash the opening ceremony, there was no shortage of drama — or laughter, for that matter.
Journalists covering the 2018 Winter Olympics took to social media to share that a pair of Kim and Trump lookalikes had caused quite the stir at the opening ceremony Friday morning (Eastern Time), according to The Hill. Security escorted the two impersonators — dressed in Kim and Trump's trademark looks, respectively — out of the PyeongChang Olympic Stadium, but not before they made their way through the lower section of the crowd right after Team U.S.A. completed its march in the Parade of Nations, USA Today reported.
Of course, the internet loved every minute of it! The lookalikes had Twitter users cracking up because, let's be honest, it's one of the weirdest and unlikeliest sights to see.
No one knows the names of the two impersonators, but Reuters did speak with the Kim Jong-Un look-a-like at the opening ceremony. The Kim imitator told Reuters that the stunt was "to show the world, this is what peace could look like when two leaders get along," according to The Hill. He continued,
We get along personally, so I believe that Donald Trump and Kim Jong Un, if they talked they'd probably get along. Because in my opinion, they're pretty much the same person. And Dennis Rodman has confirmed this and he's met both of them personally.
The Kim look-a-like added,
So let's start talking and stop with all the missiles and everything else. We want peace, everybody wants peace, nobody wants war.
His "they'd probably get along" comment seems to be a direct reference to an interview Trump gave the Wall Street Journal last month, according to The Hill. In the Wall Street Journal interview, Trump said, "I probably have a very good relationship with Kim Jong Un." But shortly after the interview was published, Trump took to Twitter to criticize WSJ as "fake news" because he said he "would" have a good relationship, not that he already does, according to The Hill. *Eye roll*
Of course, there's probably no way in h-e-double hockey sticks that the two world leaders would ever get along in real life. After all, Trump has goaded Kim Jong-Un over social media for months, calling him a "Little Rocket Man" and flexing the United States' nuclear capabilities, according to Vox. And Kim, not surprisingly, has responded in kind.
The fissure between Kim and Trump is so great that thinkpiece after thinkpiece after thinkpiece has been written on what going to nuclear war with North Korea would actually look like. The United States is at a point as a country where a literal nuclear war could start because an incompetent, inexperienced president felt like telling the world that his nuclear button "is a much bigger & more powerful one" than North Korea's.
But I digress. While historic, the 2018 Winter Olympics is also one of the most politically tense in recent history. As Business Insider reported, anti-Korean unification protesters marched outside of the Olympic Stadium to voice dissent over North Korea's inclusion in the Olympic Games. At the very least, the two people impersonating the odd couple does cut some of the tension present at the 2018 Winter Olympics.
Check out Romper's new video series, Romper's Doula Diaries:
Watch full episodes of Romper's Doula Diaries on Facebook Watch.