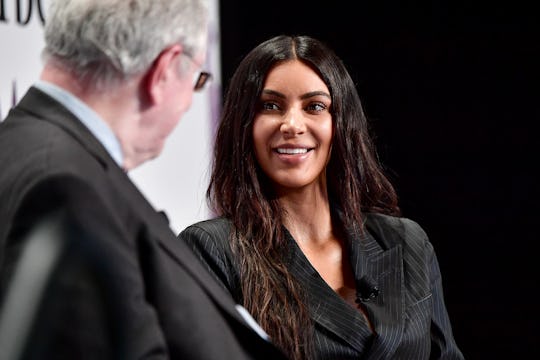 Dia Dipasupil/Getty Images Entertainment/Getty Images
These Kim Kardashian Baby Name Theories Actually Make A Lot Of Sense
After two medically-complicated pregnancies, Kim Kardashian found herself in a difficult position that no mom with dreams of a big family ever hopes to be in: risk getting pregnant again against her doctor's advice, or begin considering alternative options. For Kardashian and husband Kanye West, that alternative option ultimately became surrogacy, and on Wednesday, Us Weekly reported that the surrogate they chose was actually already three months pregnant. It wasn't long before excited fans began speculating on the details of the baby's arrival, and while many of these Kim Kardashian name theories for her third child might be tongue-in-cheek guesses (I mean, the couple did name their kids North West and Saint, after all), they might not be entirely off the mark.
Given that neither Kardashian nor West have publicly commented on their surrogate or the reported pregnancy, they definitely haven't given any hints or suggestions about what they might be planning on naming their child. But that hasn't stopped Twitter from offering up plenty of guesses, and looking back at the inspiration behind their first two children's unorthodox names might also shed some light about what they might consider when the time comes to pick a moniker for their third baby.
These days, the fact that Kardashian and West chose to name their eldest daughter North West pretty much feels like a total non-issue. But when her name was first revealed in 2013, it was definitely a different story, as many people were baffled by the direction-inspired name that at one point seemed like little more than a silly rumor (according to PopSugar, Kardashian even laughed off the idea in an interview with Jay Leno earlier that year). But in a 2014 interview with GQ, Kardashian revealed that, actually, it had just been a silly rumor — until both Pharrell Williams and Vogue editor Anna Wintour praised the name. According to Vanity Fair, Kardashian said,
It was a rumor in the press, and we'd never really considered it seriously, at all. But Kanye and I were having lunch ... and Pharrell came over to us and said, 'Oh my God, are you guys really going to call your daughter, 'North?' That is the best name.' Then a little while later Anna Wintour came over and asked the same thing. She told us: 'North is a genius name.' Kanye and I looked at one another and just laughed. I guess at that point it sort of stuck.
When the news of Kardashian's second pregnancy was announced in 2015, name-related speculation ramped up again big-time: would North's sibling be called South? Or perhaps Easton, a name that Kardashian had previously indicated she was open to? But the reality star quickly put that rumor to rest: according to Us Weekly, Kardashian told NPR that she wasn't into another direction-related name, and that she thought the idea of naming her child South was "the stupidest thing ever."
Ultimately, the couple chose the name Saint for their son, a name that E! News said was inspired by Kardashian's difficult second pregnancy. A source told the outlet that the name Saint was "akin to saying he is a blessing," after the challenges they faced both getting pregnant in the first place, and delivering him safely after suffering from preeclampsia and placenta accreta.
Given Kardashian's previous comments, it seems pretty safe to assume that they likely won't be going with another direction-inspired name for their youngest child. And given the fact that they will likely have quite the emotional journey welcoming him or her into the world, the baby's name will probably have some kind of special meaning. So far though, the expectation among fans seems to be that the newest Kardashian-West will have a name inspired by nature — and "Winter" seems to be taking the top spot:
Another suggested name has been Noble — which would actually make sense given their earlier choice of Saint. According to Glamour, in 2015, baby name site Nameberry predicted a surge in "royalty-esque names," including Saint and Reign, which Kourtney Kardashian chose for her youngest son. Also included in that list though were names like Royal, Duke, Justice, and Noble, so if they were to choose Noble, it could serve as a sweet nod to the baby's older brother.
One other interesting possibility? That the baby's initials might be important. As BuzzFeed reporter Marcus Jones noted on Twitter in 2015, both Kardashian-West children have navigational initials: NW and SW. Technically, the couple is already at a dead-end if they wanted to continue that trend — the only directions left on a compass are SE and NE — but maybe they'll throw in an extra name to make the initials NNW or WNW and connect it to some narrative about winds and change and alternative paths to parenthood? (I totally made that up, but it actually kind of works.)
One name that the couple might definitely want to stay away from though? Anything related to "Baby Jesus." While another name with religious connotations might seem to work when you already have a child named Saint, many on social media weren't even sort of impressed when Kardashian indicated recently that they were considering "Baby Jesus" as a name for their new puppy.
According to the Daily Mail, Kardashian revealed in June that she and West gave their daughter a Pomeranian puppy as a birthday present, but that they were having trouble deciding on a name. In a tweet, the reality star revealed that they'd narrowed it down to "Peachy Pop (peaches for short), Baby Jesus, Cutie Pie, & Goldie" (though they eventually decided instead to name the dog "Sushi") and responses weren't exactly supportive:
Of course, if there's anything we've learned from Kim Kardashian and Kanye West at this point, it's probably that trying to accurately guess what they'll name their new baby will be pretty much impossible. Unless, of course, you're Anna Wintour — in which case, it's entirely possible that any name you pick would have a solid chance of making it on the child's birth certificate.