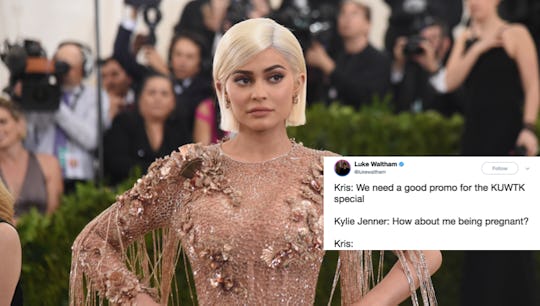 Nicholas Hunt/Getty Images Entertainment/Getty Images
The World's Reaction To Kylie Jenner's Pregnancy As Told In Tweets
If you've ever watched even one minute of Keeping Up with the Kardashians, then you know just how meme-worthy some of the reactions from the Kardashian-Jenner family can be, which means you also know how much everyone loves to joke about these famous siblings and their mom. But, Bible, these Kylie Jenner pregnancy jokes may be the reason the internet was invented. Bless us, everyone.
Yep — the youngest of the Kardashian-Jenner clan is allegedly pregnant. According to TMZ, 20-year-old Kylie Jenner is expecting a baby with her 25-year-old boyfriend, rapper Travis Scott. Romper has reached out to both Jenner and Scott's representatives, but hasn't heard back at the time of publishing. Neither Jenner nor Scott have spoken out or mentioned the rumors, and the Kardashian-Jenner family has remained mute on the subject. But of course, that didn't stop the internet from doing what it does best — making jokes. While everyone knows the "jokes" about Jenner trapping Scott with a pregnancy or the tweets making fun of her age and shaming Jenner for her decisions aren't funny, the comedy that focuses on just what this means for the Keeping Up with the Kardashians empire is pretty hilarious.
Kris Jenner Is The Ultimate Momager Jokes
I mean, come on. You knew this one was happening, right? It's been a running theme in the Kardashian-Jenner family that Kris Jenner, the momager to end all momagers, is known for making sure her children are in the spotlight, are seen, and most importantly, are on brand. The family is known for its tight-knit bond and with seven grandchildren (including Kim and Kanye's unborn child) under her belt, it makes sense to poke fun at the fact that Mama Kris had something to do with Kylie's pregnancy.
I Don't Really Care About The Kardashians Jokes
Are you even living in America if you haven't commented on a Facebook post about the Kardashians with a "OMG, who actually cares?" and then spent your lunch break reading articles about what Kim will name her new baby and following Khloe's Snapchat and buying Kylie's lip kit? Same.
High Expectations Of This Baby & Pregnancy Jokes
I mean, come on — this baby is going to be a member of the Kardashian-Jenner fam and they better be ready. People are already expecting a lot out of this baby. Will it come with its own Snapchat filter? Will it have a custom lip kit? Will it go to the Met Gala before its first birthday?
Regardless of how you feel about the Kardashian-Jenner family and their reality show, it's obvious that whenever there's big news, Twitter can make it into one hell of a joke. Pregnancy, giving birth, and motherhood are no jokes though — they're big, huge, life-changing moments and I can only hope Kylie's ready to take them on. With her sisters backing her up and her entire family's bond, she's sure to experience motherhood in the best way she can — with a lip kit in one hand.
Although, that all gets tossed out the window if she gives birth and asks if her baby's a chicken. Will you see the new baby on Keeping Up with the Kardashians? Will Jenner's new show continue and spotlight her transition into motherhood? Will her baby shower be a star studded event that includes her pulling a Rachel Green and asking what a Diaper Genie is? Twitter can only hope so. I mean, let's be honest — the jokes kind of write themselves.
Congratulations to Jenner and Scott. And Kris, I hope you get some rest tonight. Maybe put your phone on do not disturb.
Watch Romper's new video series, Romper's Doula Diaries:
Check out the entire Romper's Doula Diaries series and other videos on Facebook and the Bustle app across Apple TV, Roku, and Amazon Fire TV.