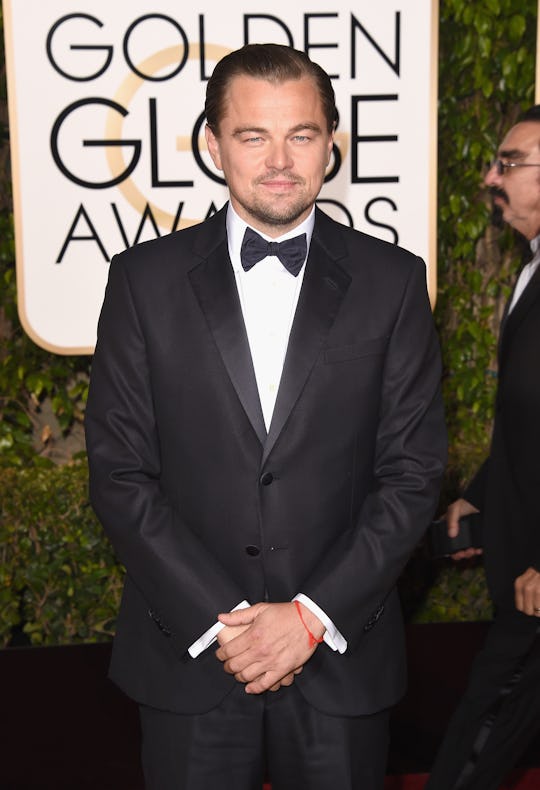 These Leonardo DiCaprio Oscar Memes Are The Best Part Of The Nominations
The 2016 Oscar nominees are officially in, after Guillermo del Toro, Ang Lee, Academy president Cheryl Boone Isaacs, and actor John Krasinski presented the list early Thursday morning. Among some heartbreaking snubs, like Amy Schumer and Daisy Ridley, Leonardo DiCaprio was nominated for the sixth time, adding continued speculation that 2016 could be the year he finally brings the golden statue home. Along with our collective hopes and dreams came the best Leonardo DiCaprio Oscar memes, because the Internet is always on its game.
While it's said that the Golden Globes predict Oscar winners, fans and viewers are skeptical and hesitant to name Leo a "for sure" winner. DiCaprio's consistent (and let's face it, heartbreaking) Oscar snubs has become a long-standing, and often regurgitated, joke come award season. In fact, it seems that everyone around Leo wins, while he is left to graciously sit in his chair and clap them on. Of his five previous nominees, Leo was nominated in an acting category four times, losing each one.
History could repeat itself in February, as DiCaprio is up against some heavy hitters. Eddie Redmayne could win an Oscar two years in a row, this year for his work in The Danish Girl, and Michael Fassbender gave a stunning performance in Steve Jobs. The competition is stiff, to say the least.
Which made the Leonardo DiCaprio Oscar memes all the more hilarious, actually. (Leo, I still love you.) While his chances look relatively good, he's been snubbed so many times that the Internet just isn't convinced this year will be the year he takes home the cake.
As a result, Twitter did what it does best, and provided us with some hilarious Leo memes. Here are just a few of the best: