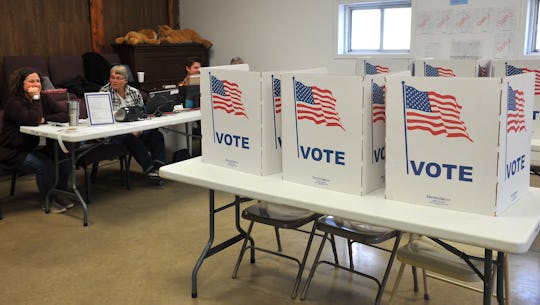 Steve Pope/Getty Images News/Getty Images
These Maternity Ward Nurses Helped Moms Vote Even If They Were In Labor
Apparently there's really no excuse good enough to keep you from voting so don't even bother. I know you're thinking 'Oh, what if I'm in labor and about to give birth? Does that count?' Not if you're giving birth in this New York City hospital, no it does not count. These maternity ward nurses helped moms vote even if they were in labor, because every single vote counts. Maybe even especially when you're bringing a new life into this world.
There was a bit of panic in the air as Nov. 6 drew closer, that all-important day for midterm elections across the country, that not everyone was in a place where it would be super easy to make it to the polls. For instance, women who were in the maternity ward at Lenox Hill Hospital on the Upper East Side of Manhattan. As The New York Times reported, two nurses took it upon themselves to come up with a realistic and frankly kind-hearted solution to help laboring moms vote. Erin Ainslie Smith, an assistant nurse manager, and Lisa Schavrien, an obstetric nurse navigator, worked together to devise a program where they helped mothers vote via the absentee ballot system so as not to miss out on the miracle of voting while going through the miracle of birth.
So here is how it works: the two women gather up the absentee ballots of the women in the maternity ward, as well as other patients at the hospital who are too sick to head to the polls and then head out to drop them off at the appropriate Board of Elections offices in New York City, Westchester, Nassau, and Suffolk counties. Keep in mind that New York City has five different boroughs with five different Board of Elections offices, plus one executive office.
That, my friends, is dedication to the voting process. Take a moment to think about what the traffic must be like for them.
Smith told The New York Times that she hopes other hospitals in other communities start helping patients exercise their right to vote by delivering absentee ballots in the future, as per She Knows:
In New York City we have a lot of medical institutions and smaller hospitals, and then multiply that by 49 other states and that's a huge population of people who don't have the opportunity to vote because of an unplanned event in their lives.
That being said, she doesn't want people to think she is trying to influence the way patients vote:
In a world where every vote really does count... a midterm election... really is important. We aren't telling you whom to vote for, or even to vote at all. We just don't want you to lose the opportunity because you're unexpectedly in a hospital.
There seems to be something about this election that has really galvanized voters. Something that has people wanting to make sure they're heard by politicians, and apparently even want to make sure others are heard as well.
So remember, even if you're in the throes of labor pains... all is not lost. You might still get to vote. Pretty impressive.