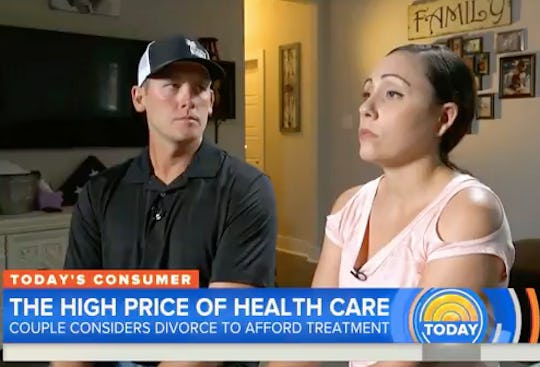 TODAY/YouTube
These Parents May Get A Divorce So They Can Afford Their Daughter's Health Care
Nearly every American can admit that there are problems with the country's health care system. Though it hurts some families more than others, it's still a nationwide issue that feels, at times, impossible to fix without taking some drastic measures. Which is why two parents are considering getting a divorce so they can afford their disabled daughter's health care, according to TODAY.
Maria and Jake Grey of Sanger, Texas are in love and have been married for more than nine years, but as they explained in an interview with TODAY, they only way they can see themselves qualifying for affordable health care and government assistance for their 6-year-old daughter, Brighton, is to reduce their annual income as a married couple. According to TODAY, Brighton has Wolf-Hirschhorn syndrome and requires round-the-clock care. Brighton's genetic condition is rare and affects many parts of the body, according to the National Center for Advancing Translational Sciences. Developmentally, Brighton will not mature beyond the newborn phase, according to TODAY.
"She will not be able to be on her own ever and requires 24/7 care," Maria, Brighton's mother, told TODAY, adding that the family, which now includes a 2-year-old as well, does have private insurance, but still spends about $15,000 every year out of pocket on Brighton's medical expenses.
Without outside assistance or lower health care costs, the couple told TODAY that they will not be able to continue. As People reported, Jake, an Army veteran, earns roughly $40,000 a year at his job, and according to WFAA, his family has not been able to qualify for Medicaid, health insurance through the government for low-income families, despite Benefits.Gov currently listing that a family of four in Texas earning below $49,698 a year may qualify.
Though there is state assistance available in theory for families such as theirs, according to WFAA, there are "tens of thousands" of people on the waiting lists — Brighton is nearly number 60,000, according to The Hill — to receive this type of aid.
Because they haven't been able to get the assistance they desperately need to help care for their daughter and with their expenses and worries mounting, getting divorced would mean that Maria could hopefully "qualify for Medicaid as a single, unemployed mother," according to People. According to TODAY, Jake explained:
It's drowning us to try to keep up with her medical expenses. We're going to reach a point where we can't do it and we won't have another option. We don't know what to do.
The Greys' story is so upsetting in light of the fact that, according to The New York Times, threats on the continuation of Obamacare could mean more families might finds themselves in the same situation, especially as insurance rates climb.
Thad Miller, M.D., a health care policy expert at UNT Health Science Center in Fort Worth, told WFAA that although he's never known a family to get an actual divorce in such circumstances, he believes there are many families in similar binds. "It's just shocking, and I really think it speaks to our need to really rethink what we do and how especially for the most vulnerable [in our society]," Dr. Miller told WFAA.
"You try anything when it comes to your child," Maria said of their situation, according to People. "We are not looking for charity, we're not looking for money or donations. We don't want a GoFundMe — we don't want any of that... I need the state to step up and give us the benefits that we need." The Greys say they went public with their struggle to encourage others to speak up, according to TODAY.
This is an unfathomable situation to be in and there's not a parent out there who wouldn't do every single thing they could for their children, no matter how drastic, just like this family is considering doing for their daughter.