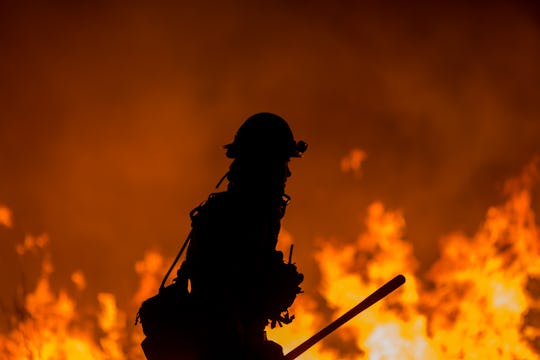 David McNew/Getty Images News/Getty Images
12 Powerful Photos Of Firefighters Battling The Devastating California Wildfires
Wildfires have spread throughout California over the last few weeks, with thousands of emergency responders joining together to beat back the flames. The fast-moving blaze is considered one of the deadliest wildfires in the state's history, wiping out entire towns and reportedly killing six dozen people. Right now, it shows no signs of slowing down, and these photos of firefighters battling the California wildfires capture just how ferocious the fight is to quell the raging flames.
Many of the fire responders combatting the California wildfires over the last month are victims of the blaze themselves. Dozens of firefighters in Northern California, for example, continue to report for duty even though they've lost their homes to the Camp Fire, which is one of the most catastrophic in the state's history, according to CNN. Nearly five dozen in Butte County alone have seen their property destroyed, a spokesperson for the International Association of Firefighters told local CNN affiliate KCRA.
Among those first responders is Leland Ratcliff, captain of the U.S. Forest Service's Feather River Hotshow crew, who was able to tell his wife to evacuate their house before the Camp Fire tore through the city of Paradise, as CNN reported.
Ratcliff told CNN, "The guilt doesn't come until afterwards, when you realize you don't have that stuff anymore. ... You always want to think that life is more important than property, but it doesn't make it any easier in hindsight."
But firefighters aren't the only ones reporting for duty despite losing their properties. The Butte County Sheriff's Office told local station KTXL that nearly three dozen of its deputies have been affected, but continue to help emergency crews battle the deadly wildfire. The majority of Paradise's police force and their families have also become displaced by the Camp Fire, according to KCRA.
Camp Fire's flames have ripped through 142,000 acres in Butte County, destroying nearly 12,000 structures and killing more than five dozen people, as CBS News reported. The Butte County Sheriff's Office has also said on Thursday that more than 600 people have been reported missing in the wildfire, which is only 45 percent contained, according to CBS News.
Down in Southern California, the Woolsey Fire, which is 69 percent contained as of Thursday, had burned nearly 99,000 acres and only damaged 548 structures. About 57,000 properties, however, are in danger of being destroyed by the Woolsey Fire, CBS News reported.
There are many ways you can aid firefighters affected by the wildfires who continue to report to the frontlines. The International Association of Fire Fighters has set up a disaster relief fund to help first responders with emotional and financial support. California Professional Firefighters has also launched the California Fire Foundation in order to bolster first responders who are battling the blaze. And the CDF Firefighters Benevolent Foundation is accepting donations to give financial assistance to injured or fallen first responders and their families, in addition to helping burn victims.
The California wildfires are tearing through the state, destroying homes and claiming lives. The firefighters on call are doing their best to contain the deadly blaze, and can use all the support they can get.