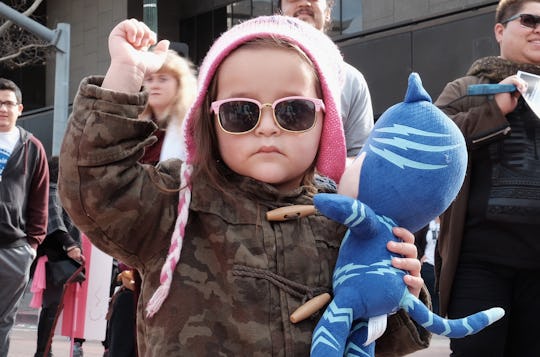 Sarah Morris/Getty Images News/Getty Images
These Photos Of Kids At The 2018 Women's March Are Proof The Next Generation Is Nailing It
There's nothing in this world quite so inspiring as an empowered kid. Someone who isn't afraid to resist, to stand up for what they believe in, to actually get out there and march for equal rights. And I have to tell you, this next generation of kids might be the most enlightened out there (thanks in no small part to their woke parents). Check out these photos of kids at the 2018 Women's March to feel so much better about the future. Because if it's in their hands, maybe the present is the worst of it.
On Saturday morning, thousands of women and the men who support them took to the streets to commemorate the first anniversary of the historic Women's March on Washington from last January. And this time around, things looked a little different. Because this year's march is all about empowerment, all about encouraging women to register to vote, to take leadership roles within their community. And perhaps most important of all, to run for office themselves. As the Women's March Youth Empower website worded it:
Women's March EMPOWER upholds the unity principles of the Women's March platform. Our goal is to provide young people with the tools needed to create high school and college chapters that guide students in making a positive impact in their communities. We believe that the single most powerful act we can do is prepare young people with the skills and commitments to take actions around causes that matter to them with courage, compassion and collaboration.
The idea of empowering the next generation to simply do better than we've done took hold at the Women's Marches across the globe last year, when thousands of teens and smaller children took to the streets carrying signs of resistance against sexism, racism, and a president who some felt embodied both of those negative idealogies.
These kids marched in the cold in some cases, carrying signs that offered proof of their fierce resistance against gender stereotyping.
And this time around, it seems the next generation of humans are ready and willing to take the stage and speak out against the patriarchy. As 13-year-old Harper from Denver, Colorado told CBS News:
I think it's important for women my age because obviously we're the next generation. We need to know when to speak up and we need to know when to point things out and say that's really not okay in our society.
Of course, as unfair as it is to make sweeping generalizations about girls, it's also unfair to pigeon-hole boys. Especially ones like this young man, who was on his way to march with his mom and sister in Chicago. I love it.
And how about this group of boys and girls holding up their homemade signs? Marching together in the spirit of unity and inclusion. Because anyone who is willing to march for women's rights should be welcome.
Although it's important to remember that this year's march was about affecting change in the government as well, and this little girl's sign asking "Daddy, What is a Shithole Country?" is a powerful reminder of what needs to change.
Let's all take a moment to appreciate this little girl, photographed by Amy Schumer.
As inspiring as these young marchers were, a few of them made sure to give props to the women who inspired them as well.
Like this young girl who shared a quote from Nobel Peace Prize-winner Malala Yousafzai.
And this young Harry Potter fan, who noted that the young hero would have surely died if not for his friend Hermione Grainger.
At the end of the weekend, when the marchers have all gone home and the dust settles, there were most likely be people who see this movement as a trend. A flash in the pan, something kids are interested in for a minute and then move on.
But here is what I see; a seed of activism has been planted. A new, peaceful, pointed way of resisting. I see the next generation rising.
And I think things are going to be different.
Check out Romper's new video series, Romper's Doula Diaries:
Watch full episodes of Romper's Doula Diaries on Facebook Watch.