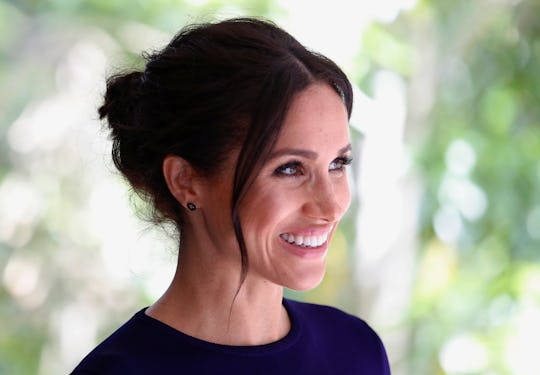 Pool/Getty Images Entertainment/Getty Images
These Photos Of Meghan Markle Cradling Her Bump Are Royally Adorable
Meghan Markle, aka the Duchess of Sussex, may very well be the most famous pregnant woman on the planet right now. She and Prince Harry publicly announced their baby news right before they began their first major overseas tour of Australia, New Zealand, Fiji, and Tonga, and while the couple certainly would have dominated headlines either way, royal fans couldn't wait to start the bump watch. And they probably weren't disappointed. While she's still relatively early on in her pregnancy, these photos of Meghan Markle cradling her bump while on tour and back in London show that she may not actually go too far out of her way to keep her pregnancy super private, like most royals do.
Unlike regular celebs, who often share all kinds of personal information in interviews or on social media, royals are often much more guarded and tied to royal etiquette and protocol — so much so, in fact, that it actually became semi-scandalous when, as Vanity Fair noted, Meghan had the audacity of closing her own car door. In other words, aside from the obligatory photo call with their newborn outside the Lindo Wing, royals don't usually share much about their pregnancies with the public.
But not only do Meghan and Harry clearly seem comfortable with public affection, the newly-minuted duchess doesn't appear to be shy about showing off her growing bump.
Though Kensington Palace announced Meghan's pregnancy right around the time when they were set to arrive in Australia, Meghan did seem to want to keep public eyes away from her belly — she carried binders in front of her instead as she walked to their waiting car.
It didn't take long though for fans to notice that, despite not really having a prominently-visible bump, she was often photographed touching it.
While on a walkabout in Auckland, New Zealand, Meghan looked her usual stylish selfish in a cream-colored dress paired with a trench coat and heels. Honestly, if we hadn't all already known for sure that she was pregnant, then I'm not quite sure it would have been obvious. But she cradled her belly while meeting local fans, and it made for some very sweet photos.
And while in Fraser Island, she was again often spotted holding her bump, according to E! News — much to the delight of her fans.
But it was at a state dinner in Fiji where Meghan actually seems to be starting to pop. On their first evening in the capital, the duchess chose a light blue caped gown by Safiyaa, according to Glamour, and held onto her growing belly as she mingled with others.
One of Meghan's sweetest bump pics yet though actually came courtesy of her husband. On Instagram, Kensington Palace shared an adorable photo of the duchess surrounded by trees in New Zealand, and in it, she proudly turned to the side and cradled her belly. Unlike most of the photos on the royal feed though, this one was specifically taken by Prince Harry himself (which only makes it a million times more amazing).
And most recently, Meghan was photographed on Nov. 19 cradling her bump at an event for the Royal Variety Charity in London with Prince Harry, according to People.
Though there were some on social media who griped that Meghan's bump holding was annoying or staged (ugh...), body language expert Judi James told The Mirror that, actually, it's likely mostly just a sign that she's super excited to be pregnant, and added that cradling her bump is a sweet maternal gesture. And on Twitter, a number of moms said they could totally relate to how Meghan appears to be feeling:
It's not clear if the Duke and Duchess of Sussex have any further travel plans for the remainder of her pregnancy, but if the reactions to their Australia tour and their recent outings in England are any indication, fans will certainly be hoping they'll continue to make public appearances for the next few months.
While it might not be royal protocol to be touching your adorable bump in public, it is really lovely to see their excitement about impending parenthood.