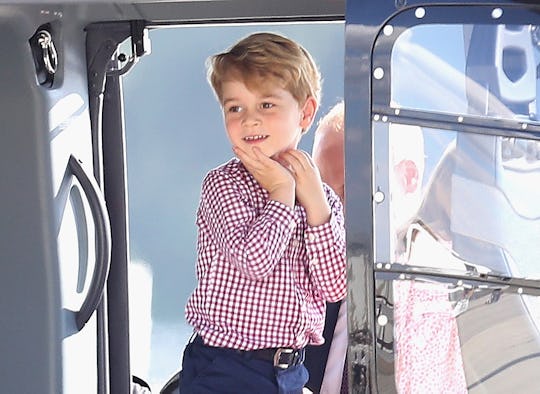 Chris Jackson/Getty Images Entertainment/Getty Images
These Photos Of Prince George's First Day Of School Are Just What You Need
It's back to school season not just in the states, but overseas in the United Kingdom, too. It seems almost impossible to believe that Prince George is already school-aged, but the little prince is growing up fast. These photos of Prince George's first day of school make him look like any regular 4-year-old heading to preschool, except that he just so happens to be third in line to the throne.
Prince George will attend Thomas's Battersea, a private school in London that reportedly costs about $23,000 a year to attend. The school's website says that it teaches students ages 4 through 13, and Thomas's Battersea is a "busy, thriving, purposeful school" that instructs as many as 560 students. The school is located in south London, not to far from his parents' home at Kensington Palace.
It was daddy Prince William who accompanied Prince George to school on Wednesday, as Kate Middleton has been suffering from hyperemesis gravidarum. On Monday, a press release announced that Middleton is pregnant with her third child and suffering from the same condition that dogged her first two pregnancies. Prince George walked hand in hand with his dad, where he was met by Helen Haslem, head of the lower school where George will begin his formal education. The photos of Prince George's big day are just too much.
I wonder what sort of fatherly first day of school advice Prince William had for Prince George.
Can we all just take a moment to appreciate the adorableness of Prince George's school uniform? He even has a matching backpack with his school's logo on it. I just cannot get over the whole "shorts, socks, and oxford shoes" ensemble worn by so many British schoolchildren. I mean, just look at his smart little outfit.
Prince George has always been slightly camera shy, but who can blame him? Most 4-year-olds have their parents just snap a couple of photos and off they go — but this is Prince George, so he was no doubt surrounded by a throng of cameras capturing his big day. While Prince George rocks an adorable little pout most of the time, he definitely looks just the tiniest bit nervous about his first day of school.
Thankfully, Haslem was more than happy to great the young prince to help alleviate some of those fears. He may be third in line to the British throne, but let's not forget he's still a 4-year-old kid about to start school. It warms my heart to see Haslem get right down to Prince George's level.
Hand-in-hand with dad on one side and lower school head on the other, Prince George heads off to his first day of "big boy" school. No matter if you're a prince or commoner, the first day of school is a pretty big deal, and it looks like Prince George is ready to take it head on.
Happy first day of school, Prince George. May it be filled with macaroni projects, finger paints, and plenty of fun.