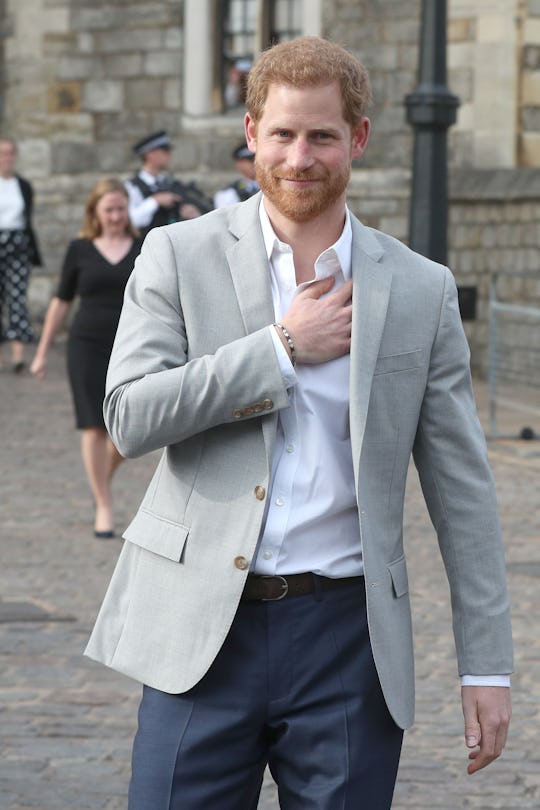 WPA Pool/Getty Images Entertainment/Getty Images
These Photos Of Prince Harry Without His Signature Beard Will Make You Do A Double Take
Just when you thought you'd seen every photo of the Duke of Sussex, Kensington Palace slides into the feed to prove you wrong. On Monday, the official account for the Duke and Duchess of Cambridge, Duke and Duchess of Sussex, as well as the Royal Foundation shared information about the 2020 Invictus Games, a sporting event in which wounded, injured or sick armed services personnel and veterans compete. In one of the posts, however, they featured an older photo of Prince Harry without his signature beard, and honestly, it will make you do a double take.
The official Kensington Palace account shared information on the upcoming games, which are set to take place in The Hague. "I am delighted to announce that The Hague is taking up the challenge of hosting the 5th Invictus Games. The city will soon become the motivation for hundreds of servicemen and women using the Games to inspire their recovery from physical and mental injuries," Prince Harry shared in the announcement on Monday. "We have already seen in London, Orlando, and Toronto just how exciting hosting the Invictus Games can be, and I know this will be an incredible experience for everyone in The Hague... as they embrace the Invictus spirit in 2020."
Next to the latter part of that statement, the account shared a series of photos of Prince Harry at former games, which — you guessed it — featured the bare-faced young royal.
In 2014, Prince Harry held the first Invictus Games, which, according to its official website, gets its name from the William Henley poem in which he declares that he is the "master of his fate" and "captain of his soul." It's a pretty moving sentiment, and as royal biographer Penny Junor told the CBC:
It's a real passion for him to prove to the world and to employers that those men and women are not fit for the scrap heap. They can still lead fulfilling lives despite their injuries.
Aside from the games, Prince Harry's facial hair has been a point of conversation recently, given that his wedding to Meghan Markle took place just last month, and many wondered if he'd sport his signature scruff. Allure reported that given his position as a Captain in the British Royal Army — which forbids troops in uniform to have facial hair — he would likely shave his face as he was planning to wear his uniform to the wedding. However, true to Prince Harry fashion, he sported both the dress blues and the facial hair, though it was more groomed than usual.
However, Esquire debunked the supposed drama, as he was technically within his right to keep his beard. As he left the army in 2015, as Esquire explained, (retaining honorary roles such as Commodore in Chief of Small Ships and Diving of the Royal Navy, Honorary Air Commandant of RAF Honington, and Canadian Ranger) his uniform was technically Captain General of the Royal Marines, whom are allowed to wear beards. Express also reported that the queen allegedly gave him explicit permission not to shave for his wedding day. Regardless, it was a pretty big deal: The Mirror reported that Prince Harry was the first royal in literally 125 years to get married with a beard, permission granted or not.
Look At These Side-By-Sides
Ian Gavan/Getty Images Entertainment/Getty Images
WPA Pool/Getty Images Entertainment/Getty Images
Chris Jackson/Getty Images Sport/Getty Images
Stuart C. Wilson/Getty Images Entertainment/Getty Images
WPA Pool/Getty Images Entertainment/Getty Images
Chris Jackson/Getty Images Entertainment/Getty Images
As far as whether fans find the facial hair preferable or not, it seems as though people overwhelmingly prefer it... at least on Twitter, that is. Around the time of the royal wedding, many chimed in to express their relief that he didn't opt to shave. "Harry in that uniform with beard groomed for the godsssss?!? I liiiiiiiiiiiive," wrote one individual. "Woof! Harry kept his beard," wrote another.
Though without explicit confirmation of the queen's approval it's impossible to know if Prince Harry really is the rule-breaker we hope for. What the world can be rest assured of is that Prince Harry, like his new wife Meghan Markle, stays true to his style — no matter what.