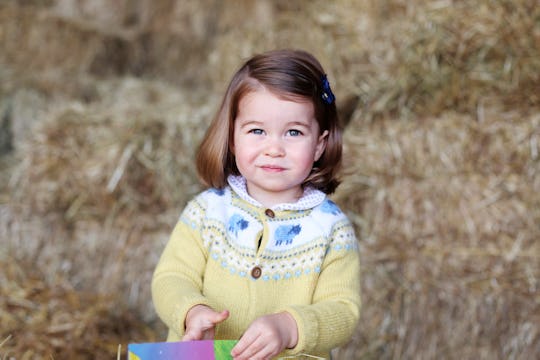 Handout/Getty Images Entertainment/Getty Images
Princess Charlotte Is Having A Better Week Than You
The British royal family is in the midst of a five-day trip that encompasses official visits to both Poland and Germany. Such an international engagement may be old hat for the Duke and Duchess of Cambridge, but it has proved to be an (adorable) coming out of sorts for their two young children. Prince George and Princess Charlotte stole hearts when they showed off their considerable diplomatic acumen upon arrival in Germany Wednesday. And the resulting photos of Princess Charlotte greeting Berlin prove once and for all that it is possible for national figureheads to perform their duties in a way that's 110 percent endearing. This may be true only for those who just so happen to be 2-year-olds with a flair for formal meet-and-greets, though.
Charlotte and her brother, who will turn 4 in just a few days, arrived at Berlin Tegel Airport Wednesday morning along with their parents to a literal red carpet fit for, well, royals. And the toddler showed herself to be a real natural when it came to schmoozing with the adults. Carrying a miniature version of the bouquet of flowers her mother, Kate Middleton, accepted upon deplaning, the little princess confidently shook the hand of a German official who was among those greeting the family. It was almost ridiculously cute.
The overarching point of the trip is to establish Britain's intention to maintain strong relations with members of the European Union ahead of its anticipated departure from the bloc of nations, according to the Associated Press. Middleton and Prince William visited the site of a former Nazi concentration camp in Poland on Tuesday, as well as met with survivors. On Wednesday, the couple met with German chancellor Angela Merkel and paid a visit to Bradenburg Gate, a symbol of German unity. Clearly, the adults were on an important mission, but it was their kids who stole the show — as they are wont to do.
I mean, seriously. Brexit and its implications are an undeniably huge deal, but that doesn't mean that the world can't bask in this, as well:
In his tiny blue shorts and collared shirt, Prince George came across as a tad sleepy on the tarmac. At one point, he seemed to try to convince his dad to bring him back onto the plane (he probably really was pooped, and he reportedly loves airplanes to boot). And, really, it's impossible to fault the little guy — especially because he and Charlotte seriously stepped up and provided the world with its weekly fill of unalloyed cuteness.
But there was something extra special about Charlotte as she went about performing her own diplomatic duties at the tender age of two.
There's no doubt that Princess Charlotte is living up to her title. She even performed a curtsy as the family prepared to leave Warsaw, Poland! So far, she's an exemplary little royal, to say the least.