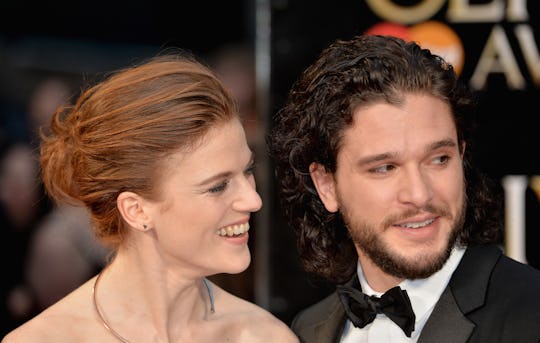 Anthony Harvey/Getty Images Entertainment/Getty Images
Pics Of Kit Harrington's Wedding Prove 'Game Of Thrones' *Might* Be Real
I was a big fan of the royal wedding between the Duke and Duchess of Sussex, don't get me wrong. But here's the reality... there was one royal wedding that I've been secretly waiting to happen. And on Saturday, it finally came to pass. These pics from Kit Harrington's wedding to Rose Leslie are basically straight out of a Game of Thrones set, and I really don't need to do another thing for the rest of the day other than scroll through them. Please join me.
The actor also known as Jon Snow married his longtime girlfriend, actress Rose Leslie, who also played his girlfriend Ygritte on Game of Thrones. Their wedding took place at Aberdeenshire in Scotland, where Leslie's father owns a literal castle, according to Harper's Bazaar. So yes, you're reading this right. Jon Snow and Ygritte just got married at a castle in Scotland because dreams do come true. The Times of Scotland reports that the castle in question, Wardhill Castle, has been in Leslie's family for 900 years, back before she was just a wildling girl in love with a bastard member of the Night's Watch, I guess. Just kidding. I know Game of Thrones isn't real. I'm fine.
To be fair, I feel like Rose Leslie wants us all to make the Game of Thrones connection. Otherwise she wouldn't have looked like a damn beautiful Medieval princess with flowers in her hair, getting walked down the aisle by her father in a kilt at the ceremony at Rayne Church in the Scottish village of Kirkton.
In fact, it seems that the couple, who initially got together in 2012 when they were playing love interests on Game of Thrones, are not shying away from the obvious references. According to Marie Claire, the couple reportedly used postage stamps with Jon Snow's image on them for the wedding invitations. Oh, and an actual monk reportedly officiated; Father Chad Boulton, a hooded Benedictine monk from Ampleforth Abbey. His name is Chad, which I don't tend to associate with monks a whole lot, but still.. if anyone was going to be able to pull off a Game of Thrones-themed wedding, these were the two people to do it.
I guess you know something, Jon Snow, and now there I've included the pun.
There's also the fact that these two were able to invite cast members to their wedding. As Harrington said in a 2017 interview on The Jonathan Ross Show when talking about his upcoming nuptials:
I rang [the scheduling producer] up and I said, 'I'm getting married and it's your fault actually. I was like, 'You need to factor in a Game of Thrones wedding by the way.' They [the cast] have all got to be there so the whole thing has got to shut down.
And so they came. Members of House Targaeryn, Stark, and even the cunning Tyrion Lannister were on hand. Which seemed gutsy, when one considers what happened at Rob Stark's wedding (who was also there in a kilt and oh my God).
There were other famous folk on hand, including British actor Jack Donnelly and his wife, fellow actress Malin Ackerman. But the real stars were the newly married couple.
As Game of Thrones enters its very final season and some people out there are grappling with how to spend the rest of their life, it's nice to see that some things from the show will carry on. I like to think if Jon Snow and Tyrion Lannister walking around the castle of Ygrette's father, drinking mead and brooding about how they are both outcasts.
This brings me joy.