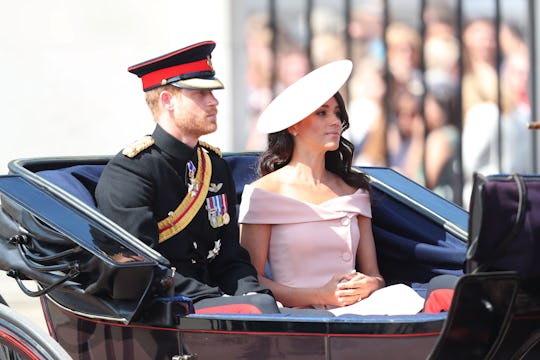 Chris Jackson/Getty Images Entertainment/Getty Images
Meghan Markle Broke Protocol At The Trooping The Colours In The Classiest Way
How quickly life can change. One day you're an actress living in Toronto, Canada doing yoga and hanging out with your best girlfriends, and the next you're part of the royal family. Such is life, am I right? Life for the new Duchess of Sussex, at any rate. In the 3 weeks since her marriage to Prince Harry, life must feel like a total whirlwind for the Duchess. And these pics of Meghan Markle at the Trooping The Colour, standing with the entire royal family, are proof that she seems to have fully assimilated to her new life. Which probably isn't such a bad gig, giving she's royalty now and all.
I mean sure, Meghan Markle had to give up her Instagram account and stuff. But now she gets to stand on the balcony at Buckingham Palace with the Queen and the Duchess of Cambridge and (best of all) the royal kids and be part of history. Honestly, it doesn't seem like the worst trade-off. Plus she married a man who appears to completely, totally adore her on May 19 who is an actual prince, besides being charming, empathetic, and utterly adorable. On Saturday, the Duke and Duchess of Sussex arrived at the annual Trooping The Colour 2018 looking camera-ready and happy as ever. In a horse-drawn carriage, no less.
The Trooping The Colour is a ceremony put on every year by military troops from the United Kingdom and members of the Commonwealth at the British monarch's birthday parade. It's been a tradition since 1748. Each military unit shows their colors (or flags) while marching in front of Buckingham Palace. The royal family travels down from Buckingham Palace along the Mall in a special birthday parade before gathering on the balcony to watch the parade. This year's Trooping The Colour saw 1,000 soldiers march to Horse Guards Parade in Whitehall, according to the BBC. And while 97-year-old Prince Phillip was unable to attend, but 92-year-old Queen Elizabeth was there and looking as spry as ever.
As for the Duchess of Sussex, she wore an off-the-shoulder custom pink dress designed by Caroline Herrera, a hat that can only be described as a chic flying saucer, and a bouncy blowout... plus she was seen laughing with her new sister-in-law, Kate Middleton. Which means dreams really do come true, guys.
The Duchess of Sussex reportedly pulled off an amazing curtsy for the Queen after watching her sister-in-law execute her own well-practiced curtsy. Which makes sense, when you think about it. Markle has been practicing yoga for years, so I bet her core strength is out of this world.
This was Markle's first major event alongside the full contingent of the royal family since her wedding at St. George's Chapel at Windsor Castle on May 19. Since then, she and Prince Harry have gone on a honeymoon and helped his father, Prince Charles, celebrate his 70th birthday on May 22.
The Trooping The Colour parade represents something far different, of course. As a centuries-old tradition, there's something about the Duchess of Sussex' presence on that balcony alongside Prince William, Prince Charles, the Duchess of Cornwall, Princess Charlotte, Prince George and all the rest that lends a weight to her new role. A finality, a solemnity to the true meaning of what her new life will really look like.
But that doesn't mean Markle is planning to simply go along with tradition. In a small nod to her own independent streak, Markle broke royal protocol again. The women of the royal family tend to wear long-sleeved dresses for the Trooping The Colour, so when Markle wore an off-the-shoulder number, it was a subtle reminder... she's her own girl. And while she'll rock a good curtsy and do charitable works and follow the rules, don't expect her to stop being the person she wants to be.