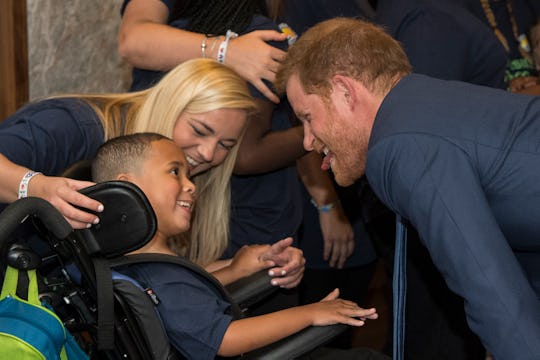 WPA Pool/Getty Images Entertainment/Getty Images
Pictures Of Prince Harry Being Cute With Kids That Will Bring You Pure Joy
Those royals, am I right? They're pretty much owning all of 2018, whether they're getting married or having babies. Or, in the case of the Duke and Duchess of Sussex, both. As most of the world knows, the couple married in May and just announced on Monday that they are expecting their first child together. Which is exciting news in most cases, but for some reason I feel like it's extra exciting for Prince Harry. That reason being that he adores kids. Don't believe me? Please peruse these pictures of Prince Harry being cute with kids over the years. And then imagine him with his own baby and die of joy just a tiny bit.
The youngest son of Prince Charles and the late Princess Diana, who died in a fatal car accident in Paris, France in 1997, has a long history of being super engaging with little children. Much like his mother, actually; Princess Diana had a well-documented affinity for all children, and worked with many charities that would specifically benefit young people. Of course, Prince Harry is already an uncle three times over; his older brother Prince William and sister-in-law Kate Middleton are the proud parents of 5-year-old Prince George, 3-year-old Princess Charlotte, and 6-month-old Prince Louis.
Now it seems, it's going to be Prince Harry's turn to have children. And these photos give a glimpse into the sort of father he might become.
Mr. Affection
While other members of the royal family might be famously hands-off when meeting with the public, this is pretty much never the case with Prince Harry. Especially when it comes to making children feel safe and welcome. His African charity Sentabale, which "supports the mental health and wellbeing of children and young people affected by HIV in Lesotho and Botswana," offers him the chance to connect with children. And to show his true affectionate nature.
Always Up For A Laugh
When I picture Prince Harry, I pretty much always picture him laughing. He's just one of those guys who seems to perpetually have a smile on his face. And this is even more true when he's around kids, like this little Spiderman, who lost a parent in the armed forces and was visiting Buckingham Palace in 2017.
Let's face it, Prince Harry rarely seems more relaxed than when he's hanging out with kids.
Playful Popcorn Protector
Back in 2017, Prince Harry was in Toronto watching the Invictus games. He was seated next to Emily Hensen, the daughter of his friend and former Paralympian David Hensen. Little 2-year-old Emily wanted his popcorn, and what followed was the most adorable exchange ever. She stole his popcorn, he pretended to pull it away. It was marvelous.
Not Afraid Of Those Babies
Now I don't want to generalize here, but in my experience young people (okay young men) who haven't had kids can sometimes be a little wary around babies. Which makes sense because they are awfully fragile. This has never appeared to be the case with Prince Harry. When visiting the Nightingale Children's Home in Barbados in 2016 he got down on the ground to bond with babies, as he has done time and again in the past.
Like in Chile in 2014, for instance.
Or here in Chichester, United Kingdom, just a few days ago, where he was shielding a baby from the sun. It brings me joy to realize he already knew he was about to become a father in this one, to be honest.
If these pictures are any indication of the sort of father Prince Harry is going to be, I think his baby is going to be truly well-loved. Just as he was.