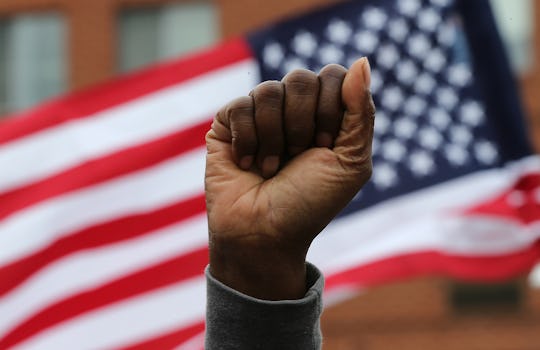 Win McNamee/Getty Images News/Getty Images
These Presidents Day Memes Will Make You LOL
Typically, Presidents Day is just an extra day off in the middle of February spent oversleeping, binge watching a series on Netflix you've already twice before, or taking advantage of some incredible online shopping deals. But the federal holiday this year is different because today — Monday Feb. 20, 2017 — is the nation's first Presidents Day with Donald Trump, the 45th President of the United States. So instead of taking advantage of what was typically a freebie lazy day, people have gotten pretty creative with these hilarious Presidents Day memes that poke fun at the POTUS — because, this year, laughter will certainly be the best medicine to help us get through these next four years.
Historically, Presidents Day became a national holiday to honor the birth of the United States' first president, George Washington, which was on Feb. 22, 1732. Ever since 1885, when the holiday was officially established, it's been held on the third Monday of February to honor all former and present presidents. However, this year, with the nation in such a divided state, not everyone is in a very thankful or celebratory mood and decided to have a bit of fun with the current political climate. Whether it be the president's tense relationship with the media, Trump's many controversial policies, or his historically low approval ratings within his first month in the Oval Office, the world of social media had plenty of material to work with to commemorate this Presidents Day.
Here's a sampling of some of the funniest:
This year's reaction wasn't entirely shocking: Across the board, Trump's approval ratings are historically low, according to AOL News. While every president has had his own critics and opponents over previous terms, Trump's administration is "11 points below the lowest mid-February numbers" for any other president in Gallup's history, as AOL News reported. That means that more than half the nation — specifically, 55 percent of Americans — disapprove of the Trump's job so far, according to Gallup. So, are we at all surprised by the backlash?
These ratings also help explain why thousands of people across the nation vowed to spend the patriotic holiday protesting Trump and his policies at one of the many "Not My President" rallies that happened on Monday.
Instead of going to work and taking advantage of the long weekend, these protests, along with these hilarious memes, push forward a very a strong anti-Trump message and it doesn't seem like it's going anywhere anytime soon — but we can certainly have a few laughs along the way.