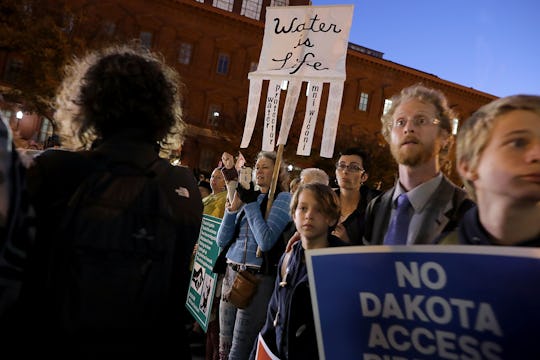 Chip Somodevilla/Getty Images News/Getty Images
These Standing Rock Wish Lists Are A Great Way To Support Protestors
For many who agree with the protests in Standing Rock but can't physically make their way to North Dakota to show their support, it can seem difficult to show solidarity outside of a donation or a Facebook post. Luckily, online Standing Rock wish lists make it easy to both fuel and encourage those on the ground in North Dakota, and it gives supporters a tangible way to express their encouragement.
Protesters have been camping out since July near the Standing Rock Sioux Tribe's reservation, in Cannon Ball, North Dakota, and during those months, they've been hit with subfreezing temperatures, rubber bullets, water cannons, and tear gas. On top of that, winter is quickly approaching, and just last week, the U.S. Army Corps of Engineers said it would be closing protesters' main camp — the Oceti Sakowin camp — by Dec. 5.
Protesters have refused to leave the grounds, and they intend to keep fighting to shut down the North Dakota Access Pipeline. "These are Lakota, Dakota and Nakota lands. These are Indigenous lands," Anishinaabe lawyer and demonstrator Tara Houska told the CBC on Monday. "We've been pushed around by governments since they first arrived on our shores and this should not be the conversation in 2016."
However, keeping thousands of protesters safe, fed, warm, and healthy is no easy task, and supplies are incredibly necessary. To lend a hand, consider buying a few items off of the following wish lists for protesters at Standing Rock.
Standing Rock Needs You
This Standing Rock wish list contains everything from buffalo jerky, spray paint, and sub-zero gloves to massive storage tents, wet suits, and log splitters. No matter what your budget is, you can help out with what you've got. Just add the items you'd like to donate to your cart and check out on Amazon — the items will be delivered directly to a drop-off point for protesters to pick up.
Sacred Stone Camp
The Sacred Stone camp has two wish list options that supporters can check out. They have a list of needed supplies online that includes firewood, snow tires, gas cards, propane, and fur blankets, and they have an Amazon wish list of items that can be sent through the website. If you choose to send supplies on your own, include your own banner for them to use and mail it to Sacred Stone Camp, P.O. Box 1011, Fort Yates, ND 58538 (or 202 Main Street Fort Yates, ND 58538).
Oceti Sakowin Camp
The Oceti Sakowin camp keeps an updated list of needed supplies on their website, and they're currently in need of bulk food supplies, cold weather clothing, heating stoves, hay bales, and any warm sleeping equipment (such as sleeping bags, blankets, and cots). They also have a longer list of general supplies that are always needed, so feel free to pick and choose what's possible for you to send their way. Donations are also welcome at Oceti Sakowin Camp, P.O. Box 298, Cannon Ball, ND, 58528.
If you can't donate items, there are other ways to help out. Call your representative to make your voice heard, spread the word about Standing Rock, or join a campaign in your city. No matter how much or little you're able to contribute at the moment, your support always matters.