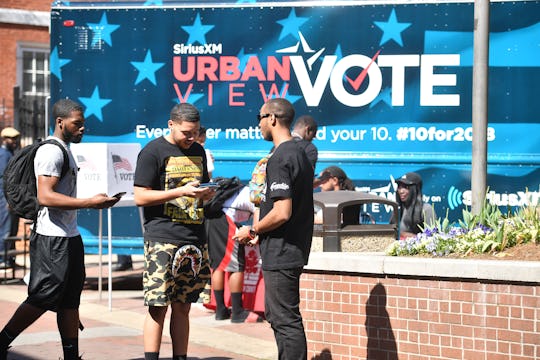 Paras Griffin/Getty Images Entertainment/Getty Images
These Teens Participating In #WalkOutToVote Are Election Day Inspiration
Do you want to know what I remember about the first time I voted? Almost nothing. I'm embarrassed to admit I was appallingly apathetic to the process. I voted for someone who seemed interesting without any research and almost zero interest in the outcome. I was by no means unusual... in fact, most of my 18-year-old friends at the time didn't bother to vote at all. Thankfully the world seems to be changing. Or at least young people are changing. These teens participating in #WalkoutToVote should serve as a massive inspiration to anyone who doesn't want to bother. Because they're engaged, they're informed, and they're galvanized to make a difference in the absolute best way possible.
The Future Coalition, which is a network of more than 20 student-led organizations all over the country, have organized a brilliant way to ensure that young people are making sure their voices are heard in the midterm elections on Nov. 6. They are encouraging students to walk out of class and march to the polls at 10 a.m., whether they are old enough to vote or not. As the website notes, "By bringing together young people across communities, issues, and organizations, we will ensure young people show up to the polls in record numbers and send a bold message to politicians and the country that young people are unified in our demand for change. Even if students aren't old enough to vote, they are still encouraged to lead and participate in the walkout to help make our message heard."
At least 500 schools and thousands of students across the country are expected to participate in this walkout. The purpose of these walkouts is two-fold, as Future Coalition founder Katie Eder told CNBC; to make sure young people are turning up to vote in record numbers and to show politicians that they need to start listening to their generation:
In addition to ensuring young people show up to the polls in record numbers, the goal of Walkout to Vote is to send a message to politicians the country that young people are unified in our demand for change and united across issues, organizations, and communities.
Students showed up in droves to polling stations all over the country, which is seriously amazing when you consider the fact that saying you're going to do something and actually doing it are two totally separate entities.
As far as I can see, 2018 has been the year of the student. Young people have been spurred into action by gun violence, by climate change, and more. The Future Coalition boasts well-organized groups who are working towards education reform, racial justice, and prison reform. Students have marched and used social media to further their causes, they've protested and, as in the case of the Parkland students, even been forced to use a tragedy to make sure their voices are heard.
But here's what these students understand on a visceral level; they need to "vote for their lives," as the Future Coalition and Parkland students have argued, according to The Guardian. Because their lives will be the ones affected for the longest period of time by what happens in this election.
And they're not afraid to do something about it.