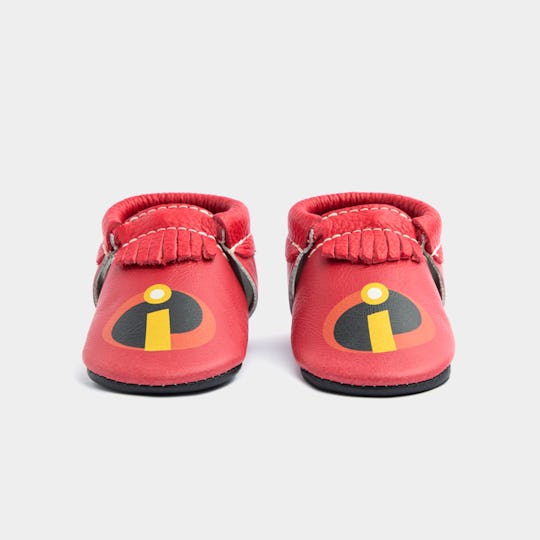 Freshly Picked
These Freshly Picked 'The Incredibles 2' Shoes Are So Cute, Even Edna Mode Wants Them
My daughter Alice has just recently been introduced to The Incredibles and, as expected, she's totally obsessed. "Mommy, you be Violet and I'll be Dash," is a regular thing she says to me, and I can't wait to take her to see The Incredibles 2 this summer for her very first movie theater experience. I know I'm not the only one — it's been 14 years since fans were first introduced to Mr. Incredible, Elastigirl, and their super kids. Which means prepping your kids for the premiere with a pair of Freshly Picked The Incredibles moccasins is obviously a must.
I know, I know. You're thinking of the million of character-themed outfits your kid already owns. But how often do you get to pick something that's adorable, well-made, and reminds your child that they're a total superhero? That's kind of what I thought. These moccasins are the latest in the Freshly Picked Disney Baby collaboration, and are releasing May 21, just in time for you to order for The Incredibles 2 premiere on June 15. At $60 a pair, you can choose either the I Incredibles logo on red or a white moccasin featuring the characters. Both are so cute, gender-neutral, and go up to a size 7. (You'll need to check the Freshly Picked size guide to pick one for your kiddo.)
Seriously, not even Edna Mode herself could make such a cute pair of shoes. If you're waffling over whether to get a pair, I should warn you that Freshly Picked in general sells out quickly, but the Disney Baby line seems to go even faster. The shoes are perfect for infants and toddlers thanks to the easy-to-pull-on elastic and the soft sole, and the leather's also high quality, so you know these super shoes are going to last — you've just got to pick your favorite. (I kind of want both, TBH.)
I'm also just super stoked in general that there's high quality apparel out there for the kids who love The Incredibles. My daughter is a huge Disney fan, but she's not your typical 3-year-old girl. Beauty and the Beast is the only traditional Disney "princess" movie she's really into (oh and Moana, but Moana's her own category), but she prefers the Pixar favorites, like the entire Toy Story franchise, Wreck-It Ralph, Finding Dory, Monsters Inc., and of course, The Incredibles. Finding clothing made for her with these characters is nearly impossible sometimes. Everything's super frilly, which isn't her favorite, or emblazoned with characters so much that she looks like a walking advertisement. I'm all for sharing our love of Disney on our bodies, but I prefer a more "subtle" statement that doesn't say, "I'm on my way to Disney World right this minute."
Basically what I'm saying is that I hope Freshly Picked continues this trendy, cute Disney Baby line. May I suggest some Wreck-It Ralph moccasins for this November's sequel premiere? I feel like Edna Mode would approve of this. No capes, of course, but maybe just some more Pixar-favorite shoes and apparel.
So whether you're going to be at the very first showing of The Incredibles 2 or have it somewhere on your summer bucket list, these Freshly Picked moccasins are a must. They're tougher than the kids wearing them, can hold up to a lot of wear and tear, and are just absolutely adorable. For real, if these were in my size, I'd have two pairs. Imagine the Instagram shots of your shoes outside the movie theater, you guys. Or just imagine trying to run as fast as Dash in your own pair of moccs. (You're totally going to win.)
This article was originally published on